Larger Than Life
(1996)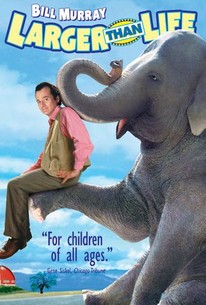 Movie Info
When motivational speaker Jack inherits an elephant from his father, he wants to get rid of it as soon as possible. Two people want the elephant for themselves, but they are in L.A. and Jack must reluctantly find a way to get it there.
Critic Reviews for Larger Than Life
Audience Reviews for Larger Than Life
½
Larger Than Life just doesn't deliver comedic charm considering that Bill Murray starred in this. The films plot is pretty bad; the jokes really don't stand out. This film suffers from a poorly written script that has nothing to offer the viewer. As far as comedy is concerned, this one just doesn't deliver good laughs. The film is horrible and it simply is a pretty boring film that doesn't have much going for it. Bill Murray has made better films, and his talents here are wasted on such a poorly constructed comedy film. The film had potential in being a much better film. This film just fails and it definitely could have been better. Murray, like I said is wasted here, and this is one of his worst films. This is a poor comedy that doesn't accomplish much. This film doesn't work, and its comedic deliver really doesn't do anything to make you laugh. Most of the time you end up being bored with the film. Larger Than Life could have been a great film, but it just falls short on so many levels. Overall the film doesn't do anything to make you laugh, and the humor is very flat and unfunny. Bill Murray has done better work, but Larger Than Life is one of his weakest films and easily one to forget about. I really didn't enjoy the film and it was a misfire. This comedy at its lowest form and it just doesn't have a spark to get things really moving. This one just falls flat and doesn't know how to accomplish effective humor. This film has none of that. Pointless and not worth watching.
I liked Bill Murray a lot in this movie, and didn't think it was nearly as bad as everyone made it out to be.
Jason Owens
Super Reviewer
Larger Than Life Quotes
There are no approved quotes yet for this movie.