The Laramie Project
(2002)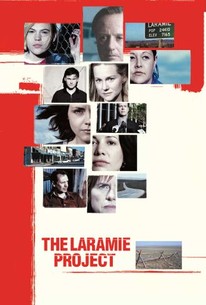 The Laramie Project Photos
Movie Info
Required watching on many college campuses, this film shows a New York theatre troupe as they shed light on the hate crime/murder of University of Wyoming student Matthew Shepard. The script was created from hundreds of hours of testimony from the people involved: Matthewís family and friends, the policewoman who found Matthew's body, and the two young men found guilty of beating him to death.
Critic Reviews for The Laramie Project
Audience Reviews for The Laramie Project
Some unbelievably beautiful acting and words. I found myself sympathizing with every character, regardless of their ideologies. This project is the ultimate representation of each person's own "universal truths," no matter how flawed or different from my own. As a film, the cinematography at the beginning is a bit cloying, with the extreme close-ups and camera angles for optimal emotional impact, and the "frame story" seems forced and unnecessary. Most natural performances come from Fonda, Madigan, Linney, Davies, Baker, Irwin, and Kinney.
Alice Shen
Super Reviewer
½
Moving and important story. Great cast.
Christian C
Super Reviewer
½
The Laramie Project is the movie to watch on the Matthew Shepard ordeal. Although far from perfect, this is a well acted and directed docu drama that tells a remarkable true story. Although far from perfect, the story is compelling and is worth seeing if you want to watch something truly engaging. This is a must see film for people interested in this poignant story. I thought that it was a well made movie that could have been a bit better, but it is much better than The Matthew Shepard story. The performances are pretty good and the story is engaging from start to finish, and there are some very good cast members here that give some good performances. There are things that could have been changed to make the film better, but for what it is, it works as an interesting docudrama. Although not perfect, it's still well acted and tells a great story. What Happened to Matthew Shepard should never happened, but it also opened the door to much needed action against hate crimes and equality. This is the film to watch if you're interested in the Matthew Shepard ordeal, and it is entertaining with good, memorable performances and well written story. However like I said, it could have been reworked slightly just to make it better. The Laramie Project will most likely have an impact on any viewer that will watch the film, and it is a film that you can't forget. The film has its flaws of course, but it is a well made movie that brings to light an important issue.
The Laramie Project Quotes
There are no approved quotes yet for this movie.