Lantana
(2002)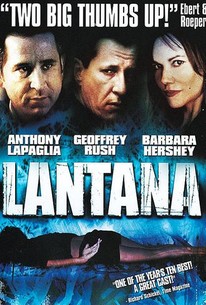 Movie Info
Plagued with grief over the murder of her daughter, Valerie Sommers suspects that her husband John is cheating on her. When Valerie disappears, Detective Leon Zat and his partner Claudia attempt to solve the mystery of her absence. As they investigate, a complex web of love, sex and deceit emerges- drawing in four related couples whose various partners are distrustful and suspicious about each other's involvement.
Critic Reviews for Lantana
Audience Reviews for Lantana
3 1/4 stars....A fairly interesting movie, but just barely. Really slow. Anthony LaPaglia went through this movie showing the same forlorn face all throughout. I was having a difficult time staying interested...
Cynthia S.
Super Reviewer
½
A brilliant, subdued near-masterpiece concerning feeling lost and numb to one's marriage, as seen through the eyes of different people who are all connected through various odd coincidences. The acting across the board is terrific, especially Anthony LaPaglia as a cop with emotional problems and suffering from guilt after cheating on his wife (Kerry Armstrong). Certainly a very depressing and hard-hitting film that is not afraid to get its hands dirty, but the way it analyzes different situations with such perception and tender care is certainly admirable and impressive. Hard-hitting and not for everyone, definitely an adult movie, but a genuinely fascinating look at marriage and the careless decisions people make in order to find happiness that only proves to be fleeting in the end.
Dan Schultz
Super Reviewer
½
This Australian gem is an impressive watch with a faultless cast who were all such natural Actors and gave the film a truly realistic feel. The merging of characters and circumstances were quite seeemlessly delivered to the audience, leaving the film to be unpredictable. For those who appreciate Actor driven films, this I'm sure, you will enjoy.
Lady D'arbanville
Super Reviewer
Lantana Quotes
There are no approved quotes yet for this movie.