Lake Placid 2
(2007)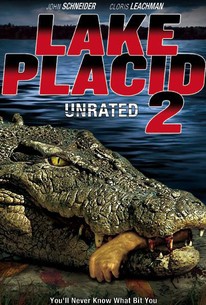 Movie Info
The serine waters of Lake Placid stir once again in this sequel that finds laid-back Sheriff James Riley (John Schneider) teaming with an inquisitive Fish and Wildlife Agent (Sarah LaFleur), a quick-triggered big game hunter (Sam McMurray), and his intuitive guide (Joe Holt) to investigate suspicions that another killer crock may be on the loose in the rural community. Two years ago, a pair of thirty foot-long prehistoric crocodiles terrorized the residents of Lake Placid. While most of the locals assumed that the nightmare had ended when the murderous creatures were killed, local crocodile lover Sadie (Cloris Leachman) knows that the truth is far more terrifying. Beneath the surface of Lake Placid, the remaining predators have been quietly reproducing, awaiting the moment they will emerge from the water and cement their status on the top of the food chain. Now, as Sheriff Riley's rebellious teenage son (Shad Collins) departs for a relaxing lakeside camping trip, the desperate father realizes the danger that lies beneath the surface and races to confront a prehistoric predator that won't stop until it's consumed every last local.
News & Interviews for Lake Placid 2
Critic Reviews for Lake Placid 2
Audience Reviews for Lake Placid 2
So I got into the Lake Placid Kick, figured I would rent all 4 movies and sit back and enjoy. After seeing the first one I thought I am in for some great movie times and laughts. The first one was great and thats where it stops. Lake Placid 2 An unnecessary and useless sequel to the self-mocking and campy comedy/horror Lake Placid. Not one of the original cast signed on for this dog, a very good decision on their part. Well, the baby crocodiles you see in the closing of the other movie apparently have grown up, and now have decided to pick up where their parents left off, and eat lots of people. John Schneider is the sheriff, and just grins a lot. Cloris Leachman reprises Betty White's nut job (as her sister), but without the funny lines. A big game hunter with grenade launchers fails to match Oliver Platt's role, and the Bridgette Fonda look-alike also does nothing. Sheriff John has summertime custody of a poor actor teen son, in order to introduce some annoying cardboard cutout screaming teens. Since Croc Jr. seems to have an appetite for annoying cardboard cutout screaming teens, you quickly realize what their function to the story is, and you find yourself rooting for the croc to eat them as soon as possible. There's one idiotic scene, apparently ripped off from the 3 Stooges, where a croc victim is talking while the creature behind him waits patiently for him to shut up, before devouring him. Nothing interesting happens. Really a bad movie, that fails at both horror and comedy. All it does is waste your time 1 Star 11 -12-13
Bruce Bruce
Super Reviewer
½
Just awful. Totally non-sensical, poorly made and mostly boring.
Ken Stachnik
Super Reviewer
After the timid and tedious Black Water this was the exact shot of Croc needed to lift spirits. Essentially a remake of the original with all the hilarious banter replaced with hilariously bad CGI and acting. It's a pleasant waste of time, the sort of film you laugh at and enjoy laughing at. There are a few glaring mistakes in the script and a bizarre rabbit sub-plot or something but hell there's also plenty of senseless kills and many boobies.
Luke Baldock
Super Reviewer
Lake Placid 2 Quotes
There are no approved quotes yet for this movie.