Lady Jane
(1986)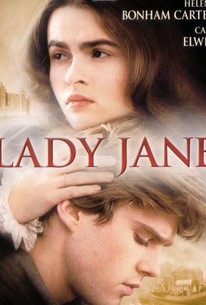 Movie Info
Lady Jane Grey, the 16-year-old girl who for nine days in the 16th century was Queen of England, is here portrayed by Helena Bonham Carter. Lady Jane Grey's sickly cousin, who becomes Edward VI upon the death of Henry VIII, is on the threshold of death himself. The Protestant powers-that-be, fearing that England will fall under Catholic rule, contrive to marry off Edward VI's most likely successor Lady Jane to the wastrelly Guilford Dudley (Cary Elwes), the future Duke of Suffolk. The dying Edward is coerced into naming Jane as his successor. Jane is forced to assume the throne, attempting to impose reforms on the corrupt Protestant government during her brief reign. A coup led by Jane's cousin Princess Mary (Jane Lapotaire) results in the ouster, and eventual execution, of Queen Jane and her consort. The story is told through anti-establishment themes; teen-agers Lady Jane and Guilford Dudley are seen as the only hope for a brighter future, making their deaths all the more tragic. An earlier version of the same story, Tudor Rose, was filmed in 1936.
News & Interviews for Lady Jane
Critic Reviews for Lady Jane
Audience Reviews for Lady Jane
Superb! The history of the English Royals has never ceased to amaze me. The people that were closest to them, and were supposed to be there to support and protect them, were nothing but opportunists. This is the story of how they used two poor young people to get their way. Jane Grey and Guilford Dudley were forced into a marriage, and then used to obtain the throne of England. It was never their choice, and it was totally against their wishes. They were nothing but pawns. Unfortunately, when all went wrong in a very short time, they paid for it with their lives. This has to be one of the most tragic stories that came out of that era, and this movie really did a wonderful job telling it..even if they embellished a little with the romance stuff. If that was true or not, I dont know. But it made me enjoy it even more.
Cynthia S.
Super Reviewer
½
I so rarely cry, but leave it to Helena Bonham Carter and Cary Elwes to do it. Dumb sweet, young romance. Henry the VIII and his aftermath is one of the most fascinating times in history to me, so I loved it in that sense, even if this wasn't all entirely true. Hey, it's Hollywood. But I still loved the story and the lesson. And I do love period piece. I loved the costumes, the acting, the story, the casting, everything. Even the stony end with Queen Mary.
Jennifer D
Super Reviewer
Good drama of a sad chapter in England's history, the using of Lady Jane Grey as a political prawn and the calamities that result. It's romantized of course but still well acted and directed.
Lady Jane Quotes
There are no approved quotes yet for this movie.