L.A. Story
(1991)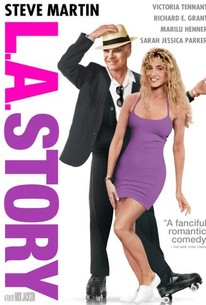 Movie Info
Steve Martin wrote and stars in this look at the promise and dreamtime of Los Angeles culture. Martin stars as Harris K. Telemacher, a light-hearted television weatherman who does wacky comedy in lieu of reports since, being in L.A., he has very little weather to report. He spends his time roller-skating through museums and spending time with California's beautiful people. But Telemacher is fired and discovers that his girlfriend Trudi (Marilu Henner) is having an affair. He walks away from the relationship and re-evaluates his life, getting advice from a friendly electronic highway road sign. The sign suggests that he call SanDeE (Sarah Jessica Parker), a sprightly and attractive Valley Girl he met in a clothing store. With SanDeE he experiences a liberating and carefree spirit. But Telemacher comes to realize that he has actually fallen in love with Sara (Victoria Tennant), a tuba-playing British journalist who is in California to do a feature on Los Angeles lifestyles.
News & Interviews for L.A. Story
Critic Reviews for L.A. Story
Audience Reviews for L.A. Story
Pretty funny and heart-warming movie. Has some problems, but overall, it's good.
Tim Salmons
Super Reviewer
½
When I reviewed an earlier released Steve Martin film called The Man With Two Brains, I ended with the comment that I believed people should sit down with him and force him to watch his old comedies to bring back the funny Steve of days past. I'd like to add on to that by saying, alternatively, I'd be just as happy if he sat down and watched his dramas/comedy-dramas and returned to his deadpan style that gives him such charm (Steve, don't let people steer you wrong, I actually enjoyed the adaptation of your novella Shopgirl!) Steve stars as weatherman Harris K. Telemacher (is it me or does Steve have a tendency to play characters with very unusual last names?), who's striving to find something meaningful in his life. His love life lacks passion, he's not appreciated at work (being told to be "more wacky, less egghead" with the weather reports) and his friends don't seem to be the type of people you'd want to spend a large amount of time with (I believe it was Jean-Paul Sartre who once said "Hell is being locked in a room with your friends". In that case, Harris' Hell would be more unsatisfying than most people's). That is until he meets Sara (Victoria Tennant, a pity she isn't more well known), a journalist from London. Okay, the plot may not be the most original in the world but sometimes it's not the plot, it's how it is treated. The fact that Victoria was married to Steve at the time of the movie's production helps the credibility of how good the two are as romantic leads. There are no real disastrous dates, nothing farcical and both Harris and Sara are witty, intelligent people (and I applaud this movie for FINALLY delivering a male rival to the lead who's not a jerk.) I've often made comments about using narration throughout a movie and how it can sometimes be detrimental but the use of it here works due to the fact that Harris is frustrated with the real lack of an outlet for his philosophical thoughts and witty remarks. It's not so much breaking the fourth wall, but it still works (as opposed to narration heard at the start in Elektra, which is just one sucky part of a sucky movie or the narrator in the brilliant Little Children, who just doesn't mesh with the movie). During one of his narrative pieces, one of his lines stands out particularly and is one of the most amazing lines in the history of film/television. It goes "Why is it that we don't always recognize the moment when love begins but we always know when it ends?" So true. So very true. The movie does have a slight fantasy slant with a signpost that sends personalized messages to Harris. Unusual, unexplained but undeniably workable. The signpost is almost a character in its own right and possibly the one other outlet for Harris to speak his mind and challenge him. For those of you who like to play cameo games (like "Hey! It's that guy!"), this film offers a few good ones. Woody Harrelson is Harris' boss, Chevy Chase can be seen, and Rick Moranis gets one of the better ones by being an English gravedigger with a sense of humor. Harris then makes a Hamlet reference (he's a huge Shakespeare buff as his narration would show) and the scene itself is fun. Too bad Moranis hasn't done many other upbeat roles. "More wacky, less egghead". That's what Harris is ordered to do in regards to his job. So amusing that the movie does the exact opposite. It's a smart romantic movie. It's able to deliver happiness with slight fantasy and still beat the pants off most romantic dramas/comedies. They're wacky (Kate Hudson films, I'm looking at you. I imagine The Ugly Truth has a big list of cliches to invoke too) and L.A. Story is egghead. Long live egghead nature.
½
this is a very. very funny film. steve martin is fantastic as the wacky weatherman while sarah jessica parker plays a great minor role.
Thomas Bowler
Super Reviewer
L.A. Story Quotes
There are no approved quotes yet for this movie.