La Nana (The Maid)
(2009)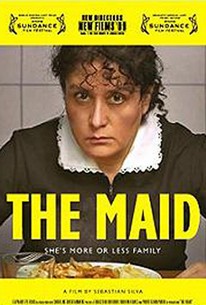 TOMATOMETER
AUDIENCE SCORE
Critic Consensus: Catalina Saavedra's devastating performance would be reason enough to see The Maid, but Sebastian Silva's empathetic direction and finely tuned script only add to the movie's pleasing heft.
La Nana (The Maid) Photos
Movie Info
A woman feels she must fight to hold on to her place in the household where she's been a servant for much of her life in this drama from writer and director Sebastian Silva. Raquel (Catalina Saavedra) works as a maid for a well-to-do Chilean family, and has been with the household so long that she's come to think of herself as part of the family. However, Raquel is also aware of the distance between herself and her employers, and though she's fiercely devoted to Mundo Valdes (Alejandro Goic), his wife, Pilar (Claudia Celedón), and their son, Lucas (Agustín Silva), she finds herself increasingly at odds with their rebellious daughter, Camila (Andrea García-Huidobro). Years of hard and unrelenting work have begun to take their toll on Raquel, and Mundo decides she could use some help; he hires a young au pair, Mercedes (Mercedes Villanueva), to assist her, but Raquel refuses to allow anyone to usurp her role in any way, and treats the girl so horribly she soon quits. Unaware of the conflict between Raquel and Mercedes, Mundo hires an older and more experienced women to work with Raquel, Sonia (Anita Reeves), and it's not long before the two domestics are locked in a fierce battle of wills. La Nana (aka The Maid) received its American premiere at the 2009 Sundance Film Festival. ~ Mark Deming, Rovi
News & Interviews for La Nana (The Maid)
Critic Reviews for La Nana (The Maid)
Audience Reviews for La Nana (The Maid)
½
I loved this satirical look at the class system in Latin-American culture (in this instance: Chile)! But, under the surface of an obvious social commentary lies a tender story of a woman who is adamantly entrenched in her role as a no-nonsense housekeeper when what she really needs is, quite simply, a helping hand in her own life.
Rico Zamora
Super Reviewer
½
"The Maid" is an incisive character study that is almost bookended by a pair of birthday celebrations, the first one for Raquel(Catalina Saavedra), the maid on occasion of her 41st birthday. While not really similar nor approaching its level of mayhem, I could not but also think of "Murderous Maids" and recalling Sylvie Testud saying that events would not have happened in that movie if her character had not been treated so nicely. And that's also true of the family in "The Maid" as Pilar(Claudia Celedon) and Mundo(Alejandro Goic) have worked to make Raquel an informal part of their family, as she has been employed there twenty years. It is also for this reason that they are looking for a little extra help for Raquel since they feel the house is too large anymore for her take care of by herself, especially in light of her headaches and taking a header down a flight of stairs. Raquel is adamant in refusing help, having already driven one other maid from the house but Pilar overrules her with the hiring of Mercedes(Mercedes Villanueva) from Peru. Raquel is even in a running battle with Camila(Andrea Garcia-Huidobro), the eldest daughter. Raquel's behavior emanates from the job becoming her entire life and she is the type of person who can never retire because she would not know what to do with herself otherwise(Compared to the people who cannot retire because they cannot afford to.) whereas Pilar might have a job and Mundo spends all of his time on model boats and golfing. As a family of luxury, they have a house fitting their status and nearly all of the action is filmed there. Don't get me wrong. It is beautiful but it does become claustrophobic with a hint of sexual frustration in the air and it is a relief when the action is occasionally set elsewhere.
½
"The Maid" is a modest, low-budget Chilean film from a relatively unknown writer/director, Sebastian Silva. It is a character study of a lonely, childless, middle-aged maid named Raquel, who is played in an impressively understated and naturalistic way by Catalina Saavedra. There is a fine line, however, between understated and boring, and "The Maid" unfortunately slides across the line into boring one too many times. But there is some special cinematic work here, and I'm pleased that the film has gotten attention beyond the confines of Chile. It is also nice to see a maid character at the center of a serious film -- it's about time. Maid characters are typically used as comic relief or are just part of the background. Silva really upends this tradition by making Raquel the center of the story and focusing all his attention on her inner life. Raquel is a live-in maid who has been working for the same suburban family for close to 20 years. The family of six is vibrant and happy, but Raquel seems to be unhappy about something. She has a strange hostility toward the oldest child, which is difficult to watch. It doesn't appear that the girl has done anything to deserve this mistreatment. When the family hires a second maid to help Raquel, she goes almost insane, locking the new maid out of the house, maniacally disinfecting the bathroom every time the new maid uses it, and abusing the family's new kitten. The new maid, a delightful young Peruvian woman, quits within a month. But the lady of the house will not give up. She insists on getting a second maid. So we watch Raquel terrorize yet another servant, but then the third is the charm. The third new maid (played beautifully by Mariana Loyola) breaks through to Raquel. A touching friendship emerges, and we come to learn a lot more about Raquel and about the peculiar emotional challenges of being a live-in maid. Is she part of the family or is she not? Being both in and out is very tough. I had never even considered this. Silva's film is not a masterpiece, but it open one's eyes in a special way and will surely touch everyone who sees it.
William Dunmyer
Super Reviewer
La Nana (The Maid) Quotes
There are no approved quotes yet for this movie.