La Femme Nikita (Nikita)
(1990)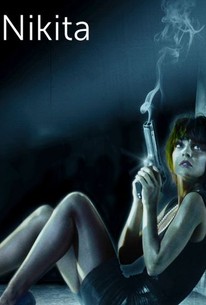 TOMATOMETER
AUDIENCE SCORE
Critic Consensus: A zany out-of-control thriller that gives lead Anne Parillaud a big character arc and plenty of emotional room to work within.
La Femme Nikita (Nikita) Photos
Movie Info
The serpentine plotline of Luc Besson's La Femme Nikita begins its 117-minute slither when punkish, psychotic, and drug-ridden Nikita (Anne Parillaud) fires her gun into a cop's face following the stick-up of a drug store, and is promptly imprisoned. She is thrown into a dank cell, then injected with a substance and told it is a lethal toxin. Instead of dying, however, the comes to in an all-white interrogation room, where French intelligence officer Bob (Tchéky Karyo), informs her that an alternate to execution exists: she can receive covert government training as an assassin. She accepts the bid, is rigorously trained, and later returns to society as a seemingly normal and gentle civilian, but falls in love with a drugstore employee while she's waiting for that first government assignment. The paradoxical concept of a young woman blossoming socially while carrying out cold-blooded murders was downplayed when La Femme Nikita was remade in America as the silly and disappointing Point of No Return, directed by John Badham with Bridget Fonda in the lead. A far less sociopathic TV-series version of La Femme Nikita surfaced on the USA cable network in early 1997.
News & Interviews for La Femme Nikita (Nikita)
Critic Reviews for La Femme Nikita (Nikita)
Audience Reviews for La Femme Nikita (Nikita)
I have only just seen this Besson original, I saw the remake yonks ago when I was but a teen and quite liked it to be honest. Upon seeing this I can see how glossy the US remake was but its still better in a few ways...but not many. The original is much better due to the character driven cast which at the time were almost unknown (except in France maybe), it gives the film a much more realistic feel that big name Hollywood stars can't deliver. The action is slicker, harder and has a nice graphic novel vibe about it with great cam angles and gun POV's. Its all pure Besson and if you've seen his other action flicks you will like this for sure. The US remake does have Keitel in it which gives it a few extra points. I also prefer Fonda for sex appeal but Parillaud is a much better actress and looked a lot better with a gun, more professional looking. But then this version has the brilliant Reno as the anti 'Leon' cleaner 'Victor', just wish he had a bigger part, question is was he better than Keitel? hmmm tricky. This is similar to 'The Terminator' in the fact its more gritty, seedier, darker and realistic than the second 'T2', or in this films case the US remake. Again the smaller budget actually works better for the outcome, more money tends to encourage directors to get carried away when they don't have to. More is less and this film certainly feels like more of a sweaty thriller than the Hollywood offering.
Phil Hubbs
Super Reviewer
½
Luc Besson's La Femme Nikita is his undisputed masterpiece, along with The Professional; Besson has delivered a stunning work that is riveting, filled with action, great performances and a well crafted story. The script here is solid, and this is exactly the type of film that action fans will find appealing. Mixed into the action is a plot that is smartly layered, intriguing that is elevated by a great cast of actors. The film's mood is dark and ominous, and it gives it a sense of style that only enhances the film's style. Besson has yet to top La Femme Nikita, and as far as action films in general are concerned, this is a near perfect example of a film that successfully combines action and a great storyline. Luc Besson's script is near perfection, and fans of the genre, owe it to themselves to check this film out. La Femme Nikita hits the right notes, and moves at a fast pace under the direction of Besson, who has yet to make a film that matches the scope of this. This is pure action and thrills, and if you love the genre, then this is a film that will definitely satisfy your need for effective, memorable action sequences. Lead actress Anne Parillaud delivers a powerful performance in the lead role, and actor Tchéky Karyo is equally as good. Both actors command the screen, and they have great chemistry on-screen. Besson has made a standout film that manages to redefine action cinema, and since its initial release back in 1990, has elevated the standards of action cinema.
It's brilliant, riveting, fast-paced and original. An relentlessly entertaining action-packed thriller. A smart and intriguing thrill-ride that's entertainment in fine form. A sexy, stylish, dangerous and excellent piece of work. Director, Luc Besson's triumph. One wickedly cool adrenaline-rush from start to finish. It has the action, suspense, emotion and character development that a fine film of it's kind should. A real classic. The performances are fantastic. Anne Parillaud is a revelation. Jean-Hugues is terrific Tcheky Karyo is excellent. Jean Reno plays a cool and slick character. It's magnetic and wickedly entertaining.
La Femme Nikita (Nikita) Quotes
There are no approved quotes yet for this movie.