Kurt & Courtney
(1998)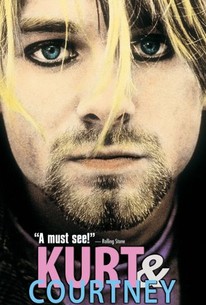 Movie Info
British documentarian Nick Broomfield follows his lurid profiles of serial killer Aileen Wournos and Beverly Hills madam Heidi Fleiss with this inept chronicle of the life and death of rock star Kurt Cobain and his harpy wife, Courtney Love.
Critic Reviews for Kurt & Courtney
Audience Reviews for Kurt & Courtney
½
Interesting documentary on Nirvana front man Kurt Cobain, Nick Broomfield documents his life by interviewing the people who knew him. Broomfield also tries to uncover what really happened towards the end of his life. This is a great documentary, one that should be seen by any Nirvana fan. I don't believe that Kurt Cobain was murdered, but the film shows a few theories on the matter, and Broomfi8eld uncovers interesting aspects on the case. However many people who knew him, has been interviewed here, said that Cobain really was depressed, and had thoughts of suicide. The topic is very good, and the interviews are very well done, and at times shocking. This is one Broomfield's best works, and he has made quite a few engaging, and memorable films that really have stood out, but Kurt & Courtney is well worth seeing for those interested in the subject. The interviews are very well done and are in depth as to why Cobain acted the way he did. If you're a fan of his music, then by all means give this film a hot. I really enjoyed the film, and it gave a very good history on Cobain, his relationship with Courtney Love and his eventual suicide. In terms of a documentary, this film is a fine picture, one that is finely crafted to expose a broader story on what happened in the life of the troubled lead singer of Nirvana. The film has its imperfections, but nonetheless if you want a different side to the story of Kurt Cobain, then give Nick Broomfield's documentary a shot. I found it to be very entertaining from start to finish, and it is a fine film that has effective interviews and good content to make a memorable viewing experience.
This film tries to be far too informational, but comes off as pure hilarity due to the fact that the director has no contacts that are prepared to speak or any warrants to film anywhere, getting kicked out of every location he goes to. It really made me wonder, and raised some questions as to whether he truly murdered himself or not, but the fact that you laugh during every interview just makes the film not very engaging, and for that reason I almost hated this movie. It was nice to see footage of Kurt Cobain before his death, but they completely manipulate it, only showing what they feel is necessary and not what the audience most likely wants to see. I must say that this is a very messy film that barely fits the category of documentary.I will not be watching this ever again.
MisterYoda ?
Super Reviewer
Kurt & Courtney Quotes
There are no approved quotes yet for this movie.