Krippendorf's Tribe
(1998)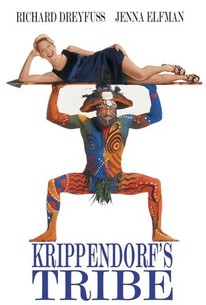 Krippendorf's Tribe Photos
Movie Info
Todd Holland directed this Charlie Peters adaptation of Frank Parkin's novel. Respected anthropologist James Krippendorf (Richard Dreyfuss) and his wife, Jennifer (Barbara Williams), bring their three children along during their failed search in New Guinea for a lost tribe. After Jennifer's death, James reaches a zero point back in the U.S., having spent all his foundation grant money raising the kids as a single parent. Scheduled to lecture at a college and fearful he could be charged with misuse of grant funds, James concocts an imaginary tribe, the Shelmikedmu, and fakes a 16 mm "documentary" film, casting his children as tribe members and editing in footage of a legit New Guinea tribe. Anthropologist Veronica Micelli (Jenna Elfman) contacts cable-TV producer Henry Spivey (David Ogden Stiers), forcing James to continue creating fraudulent footage as the rival Ruth Allen (Lily Tomlin) gets suspicious. It seems a shame this racially insensitive film was made, while the once-announced plans to film anthropologist Kenneth Good's nonfiction Into the Heart (Simon & Schuster, 1991) never led to a production.
Critic Reviews for Krippendorf's Tribe
Audience Reviews for Krippendorf's Tribe
Boy, I hope it's a good movie. Yeah, it's not.
Curtis Lilly
Super Reviewer
Ooga-Booga! Richard Dreyfuss is hilarious in this movie when he invents his own lost tribe. A fun comedy.
Lafe Fredbjornson
Super Reviewer
Quite how we're expected to swallow the idea that a collection of eminent anthropologists would be fooled by Richard Dreyfuss' wife and kids running around a middle american suburb in grass skirts is beyond me, but he's his usual likeable self in an inconsequential but inoffensive family comedy.
Krippendorf's Tribe Quotes
There are no approved quotes yet for this movie.