Control (Kontroll)
(2005)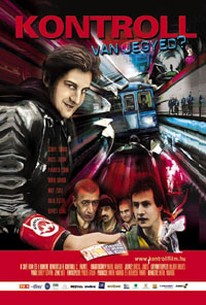 Control (Kontroll) Photos
Movie Info
Screenwriter Nimrod Antal makes an impressive directorial debut in this surreal, atmospheric and entirely subterranean black comedy-thriller about transit officials in a Budapest subway dealing with unruly riders and a serial killer. Sandor Csanyi, Zoltan Mucsi, Csaba Pindroch, Sandor Badar, Zsolt Nagy, Bence Matyassi.
Critic Reviews for Control (Kontroll)
Audience Reviews for Control (Kontroll)
"No Ticket" Solid film about a crew of subway control officers working in the underworld that is the Budapest subway system. The film works as a dark comedy and very gritty thriller. As mentioned, the film is set entirely within the Budapest subway system. Our main characters are a team of control officers, responsible for checking the tickets for every subway train passenger, due to the subway working by way of the honor system. The lead role belongs to Sándor Csányi, who plays Bulcsu, a man that has been down, underground for way too long. Bulcsu manages to meet a woman, have gritty adventures with his fellow workers, and spend time with an old train diver. While the plot is somewhat episodic, there is the matter of a hooded figure, who is pushing people onto the tracks. The film was directed by Nimrod Antal, a Hungarian, who has since made a couple simple thrillers, Vacancy and Armored, and is currently working on the Robert Rodriguez produced Predators film. I mention Rodriguez, because Antal strikes me as a guy who works very much like him. His films are low budget, efficiently made, and manage to have a slick feel; delivering a lot with a little. This film is no different, working in one location and making the most with it. There is a good amount of creativity at play here, and I enjoyed it. Szofi: [at subway vending machines] Nice place. Come here often? Bulcsú: Only when I really want to impress a girl.
Aaron Neuwirth
Super Reviewer
½
A crew of borderline-incompetent subway cops ('Kontrollers') deal with abusive commuters, a rash of apparent suicides, and dense symbolism. Shot entirely in the Budapest subway, this accomplished debut mixes elements of comedy, romance, thrillers, and obscure arthouse allegory into a narrative that, against all odds, works.
½
dark dark dark and funny low budget thriller set in the budapest underground with a host of oddball characters. i really enjoyed this
Stella Dallas
Super Reviewer
Control (Kontroll) Quotes
There are no approved quotes yet for this movie.