Knockaround Guys
(2002)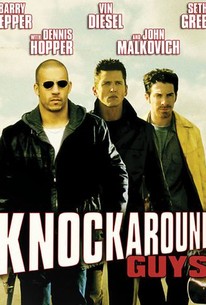 Movie Info
A big score goes wrong in a big way for a bunch of aspiring gangsters in this crime comedy. Matty Demaret (Barry Pepper) is the son of a mid-level Brooklyn mob boss, Benny "Chains" Demaret (Dennis Hopper). When Matty was 12 years old, Benny and Uncle Teddy (John Malkovich) decided to see if Matty had what it took to be in the mob; they gave the boy a gun and ordered him to shoot a longtime enemy of the family. Matty lacked the nerve to do it, and ever since, Benny has been convinced his son is a coward. As an adult, Matty is stuck between a rock and a hard place; he'd like to work as a sports agent, but his family's criminal ties make that all but impossible, and his dad won't give him a chance in the family's operations. Uncle Teddy decides to give Matty a chance to make good by asking him to pick up a payment of $500,000 in Spokane, WA. Matty puts together a crew of three friends, all sons of mob guys, to help him out: muscle bound Taylor (Vin Diesel), ladies' man Chris (Andrew Davoli), and cocaine-addled would-be pilot Johnny (Seth Green). Getting the money goes just fine, but during a refueling stop in Montana, Johnny has to hide the money to keep it from being discovered. It's then promptly stolen by a pair of burnouts. When Matty and his crew discover the money is missing, they head back to Montana, but before long, they find out that the sheriff (Tom Noonan) is onto them, and that he has his own plans for the cash; they also learn that Uncle Teddy has some plans he didn't tell them about. Knockaround Guys marked the directorial debut for the screenwriting team of Brian Koppelman and David Levien.
News & Interviews for Knockaround Guys
Critic Reviews for Knockaround Guys
Audience Reviews for Knockaround Guys
Everywhere they go, they're sure to be a hit. Good movie. It's no Goodfellas, but this watchable, well-crafted little mob story is easy to take, and goes a long way on its appealing cast and dark, profane sense of humor. Vin Diesel kicked ass, don't mess with him. Nice good story which entertained me late at night. The acting was decent, nothing bad to say about this movie. Popcorn movie to watch with your guy friend's. The four sons (Diesel, Green, Pepper, Davoli) of major Brooklyn mobsters have to team up to retrieve a bag of cash in a small Montana town ruled by a corrupt sheriff. Specifically, the story gets started when Matt Demaret (Pepper) goes on a job to deliver the money for his mob father (Hopper) on the advice of his uncle (Malkovich). Things don't go as planned though...
Barry Pepper, Vin Diesel, John Malkovich, Dennis Hopper, Seth Green, Dov Tiefenbach The film follows four sons of well-known Brooklyn-based mobsters and their desperate fight to retrieve a bag of cash in a small Montana town ruled by a corrupt sheriff. As they unite to find the money, they come face-to-face with the bloodshed and betrayal that is their birthright. ~~~~~~~~~~~~~~~~~~~~~~~~~~~~~~~~~~~~~~~~~~~~~~~~~~~~~~~~~~~~~~ I thought it had a great cast. Thought the movie was good. Little slow to begin with but got better as it went. Good little mob story.
♥˩ƳИИ ƜѲѲƉƧ♥
Super Reviewer
A lean, mean, funny and stylish tough guy thriller. It packs major star power and cold blopded gunplay. A hard-hitting, fast paced and enjoyable film. Thrilling, pulse-pounding and exceptional. Packs lots of action and humor. Dennis Hopper, John Malkovich, Barry Pepper, Andrew Davoli, Seth Green and Vin Diesel give great and sensational performances.
Knockaround Guys Quotes
There are no approved quotes yet for this movie.