Knock on Any Door
(1949)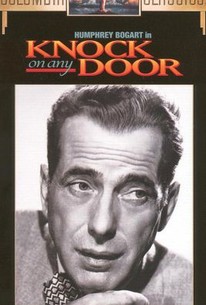 Movie Info
In this noir melodrama from Nicholas Ray, Humphrey Bogart stars as Andrew Morton, an attorney who attempts to save a ghetto youth (John Derek) from execution after the boy is charged with a policeman's murder.
Critic Reviews for Knock on Any Door
Audience Reviews for Knock on Any Door
A strange, silly, sloppy, boring movie that shouldn't have starred Bogart, he's worthy of a much better script.
Adele Morton: If I were as cynical as you, I'd hang myself.
Andrew Morton: If you were as cynical as me? I wouldn't even trust the rope.
Another Bogart movie I've never seen. God bless Ted Turner and TCM. I swear, TCM must be the greatest TV station of all time. As I've said before, I've never met a Bogart movie I didn't like. This one is no exception. He plays a "good guy" in this one, and he's brilliant either way. Nobody can deliver a line like Bogart, and no one can deliver a moralizing speech like the one at the end of this film like Bogart. In a lesser actor's hands, you might be tempted to laugh, but Bogart makes the lessoning stick like crazy glue and stand like the Rock of Gibraltar. Perhaps the best male actor of all time.
Lanning : )
Super Reviewer
½
Nick Ray's direction shines when Knock on Any Door isn't wallowing in its own mediocrity, heavy-handed social commentary and dull performances. Bogart and Macready aside, of course. Bogart plays an attorney who tries to save John Derek (playing an Italian) from a murder rap. The story follows Derek's character more than it showcases Bogart's. If you watch this movie you'll quickly understand why it's not a must-see Bogart movie. If you're looking for a much better pairing of Bogart and Ray you'll do well to watch In a Lonely Place.
Michael Gildea
Super Reviewer
Knock on Any Door Quotes
There are no approved quotes yet for this movie.