Kissing a Fool
(1997)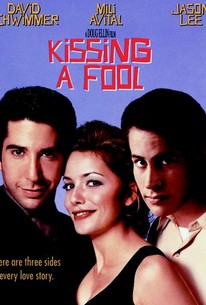 Movie Info
Jay is a novelist, hopelessly in love with his ex-girlfriend. Max is a womanizing sportscaster. When Jay introduces Max to his publisher Sam, they become engaged in just 14 days. Max worries about settling down, and Jay and Sam become closer while working on Jay's book together.
Critic Reviews for Kissing a Fool
Audience Reviews for Kissing a Fool
This is one of those romantic comedies that I enjoy having on my shelf, guilty pleasure film. It's not your average romantic comedy, it has a little edge that other films of the genre lack. The leads are fun and play well of each other even if the characters fall onto every cliché in the book. I caught this film again on the weekend and must say I still find the film funny and one of the few romantic comedies I enjoy, I have this right next to Notting Hill. Jason Lee deserved a better film career, much like David Schwimmer, they are funny guys who missed the train. 22/09/2018.
Brendan O'Connor
Super Reviewer
David Schwimmer plays Max, a womanizing Chicago TV sportscaster who falls for Sam played by Israel native Mili Avital, his attractive young publisher but who he feels is too good to be true. Max and Sam seem perfect for each other but Max wonders if he can really keep Sam "satisfied" long-term and tries to get his best friend Jay (Jason Lee) to see if she can become unfaithful. Jay is hesitant to do this being the sensitive soul that he is plus he is still grieving over the breakup of his slutty model girlfriend but things become complicated when Jay also succumbs to Sam's charms and begins to fall in love with her.
I enjoyed this movie and I don't see why others didn't. I mean in the beginning David Schwimmer's character was a jerk but by the end his character had gone through a total transformation, Jason Lee had a good performance, too as did Mili Avital.
Cassie Hill
Super Reviewer
Kissing a Fool Quotes
There are no approved quotes yet for this movie.