Kiss Me Deadly
(1955)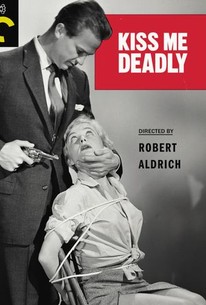 Movie Info
This film noir stars Ralph Meeker as Mickey Spillane's anti-social private eye Mike Hammer. After he and a hitchhiker are kidnapped by thugs, the semiconscious Hammer helplessly watches as the girl is tortured to death. Seeking vengeance, Hammer searches for the secret behind the girl's murder.
Critic Reviews for Kiss Me Deadly
Audience Reviews for Kiss Me Deadly
Tough-as-nails private detective Mike Hammer is thrown into the middle of a murder mystery when a desperate hitchhiker (Cloris Leachman in her first film role) flags him down on the highway. Thereafter he's beaten, nearly killed, but thereby persuaded to reluctantly take the case - which involves reading poetry - to finally solve. What is this Great Whatsis everyone seems ready to kill for? Considered classic film noir, it makes several leaps of illogical thinking and yet nonetheless drags one along to its sensational last quarter. Tasty.
Kevin M. Williams
Super Reviewer
A meandering, nihilistic Noir that birthed the "golden briefcase" motif that still perplexes film students in universities across the country. Throwing us right in the action, director Robert Aldrich begins the film on the opening road with a marvelous title sequence. Our protagonist detective Mike Hammer, is barreling down the freeway, nearly careening off the road at every turn. This opening excellently sums up Hammer's ethos. He is a man that lacks caution, wastes no time in getting what he wants, and pays no mind to the lives he endangers in the process. Ralph Meeker is pretty good as the rabid anti-communist and barbaric detective. Unlike other noir detectives, such as Borgart's Phillip Marlowe, Meeker's Hammer isn't exactly charming. Yet, what he lacks in the charisma department he makes up for in sadism. Everything else you need to know about his character is summed up when a young woman asks him if he has ever read poetry. The look is hard to describe, but trust me when I say you don't want to be at the receiving end of it. However, this brute, our "hero", isn't so bad when compared to the rest of the lot in the film. Aldrich's world is very bleak. Everyone is out to get one-another, and even doctors accept kickbacks. Usually dabbling in petty divorce cases, Hammer stumbles into the apocalyptic underworld when the death of a young woman leads him to believe that there might be more dollars signs in his future. He ends up tracking down a mysterious box, much like the one in the Pandora myth, in which it's very opening portends some disastrous consequences. Without getting into specifics, one can glean from the film that Aldrich & screenwriter A.I. Bezzerides didn't think the realities of the nuclear age had positive consequences in American culture. While the film isn't perfect and has a tendency to wander, the ending is one of the ballsiest that I have encountered in a long time. This alone is worth moving it to the top of your queue. However, if you are one of those people who would still like to believe that the world is made out of hugs and rainbows, then you might want to leave this on the shelf for the time being.
The movie gets it's reputation for the second half for sure, and for the ending. The first half is very average by-the-number noir routine, then it starts to scalate and get better. Meeker is kind of dull in the lead role, but the rest of the cast is quite strong.
Tsubaki Sanjuro
Super Reviewer
Kiss Me Deadly Quotes
There are no approved quotes yet for this movie.