Kinsey
(2004)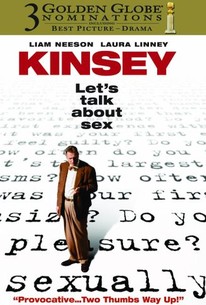 TOMATOMETER
AUDIENCE SCORE
Critic Consensus: A biopic of the sex researcher is hailed as adventurous, clever, and subversive, with fine performances by Liam Neeson and Laura Linney.
Movie Info
Alfred Kinsey was an entomologist who taught at Indiana University and had a keen interest in an area of human behavior that had seen little scholarly research -- human sexuality. While the courtship and reproductive patterns of animals had been carefully documented, Kinsey believed that most "established facts" about human sexual behavior were a matter of conjecture rather than research and that what most people said about their sex lives was not born out by the evidence (a subject that had personal resonance for him given the troubles he and his wife Clara Kinsey had in the early days of their marriage). After introducing a course in "Marriage" at Indiana University which offered frank and factual information on sex to students, Kinsey began an exhaustive series of interviews with a wide variety of people from all walks of life in order to find out the truth about sex practices in America. When he published Sexual Behavior and the Human Male in 1948, his findings were wildly controversial, indicating that most men had a wider variety of sexual experiences than most people imagined, including a number of practices commonly thought to be dangerous or perverted (including pre-marital sex, same-sex contacts, and masturbation). An even greater outcry greeted Kinsey's next volume, Sexual Behavior and the Human Female, which contradicted common notions than most women went into marriage sexually inexperienced. Kinsey is a film biography written and directed by Bill Condon which examines Kinsey's life and work from his strict childhood until his death in 1956. Liam Neeson plays Alfred Kinsey, and Laura Linney co-stars as Kinsey's wife and colleague Clara. John Lithgow highlights the supporting cast as Kinsey's repressed and moralistic father, while Chris O'Donnell, Peter Sarsgaard, and Timothy Hutton play members of Kinsey's research team and Tim Curry appears as an IU faculty member at odds with Kinsey's teachings. ~ Mark Deming, Rovi
News & Interviews for Kinsey
Critic Reviews for Kinsey
Audience Reviews for Kinsey
The start of the sexual revolution for the hoi polloi begins when an obscure researcher opts to go the populist route and to give 'em what they want. Ahhh, but there may be some consequence ... not bad if a little slow.
Kevin M. Williams
Super Reviewer
½
Great acting, some really fun moments. It's not going to rock your world, but it might nudge it a little.
Ken Stachnik
Super Reviewer
A biographical film concerning the findings, research, and life of Dr. Alfred Kinsey, a zoologist and entomologist who turned his attention to the science of sex when the nation was still knee deep in the Cold War. Kinsey opened the American public up to a great deal of factual information that changed lives, saved others, and put a brighter light on human biological functions, making it obvious to general speculation that all of us are equally normal, and different at the same time. The film explores the revelations of Kinsey, and the steps he took from simply studying animal behavior, to the unheard of concept of sexual research. None of it broaches on especially scandalous in modern eyes, but the chasm between Kinsey, his wife, his children, and his research team becomes increasingly apparent. He only wants to study and catalogue a taboo topic, and his glaring clarity on the subject subjugates him from his son, who only wants to be seen as normal. His wife and constant companion is all too accommodating with his decisions to experiment, and goes along with everything in a supportive manner. Kinsey only speaks of his subject and that seems to be the extent of his conversational skills, driving him away from human contact, which is the sole way he seems to find pleasure in life. The increasing trials of the House on Un-American Activities Committee, a strain on funds, and a shunning from any scientific field or public interest derails him further. The choice of cast was superb: Liam Neeson, though burdened by an accent he can't misplace, was so stoic and brave in his portrayal, that he completed a vision of a man bridled with his own inequalities and social misgivings. Linney provides another role of a woman with a lot on her mind, but little in the way of showing it. The choice to include great character actors such as Timothy Hutton, Dylan Baker, and Oliver Platt really pulled everything together, since each took their role to heart and fleshed out their characters. It was interesting look into American repression during the fifties, and an examination of whether sex is based on love, pleasure, or is in fact a scientific field to be explored without emotional attachment.
Spencer S.
Super Reviewer
Kinsey Quotes
There are no approved quotes yet for this movie.