The King of Marvin Gardens
(1972)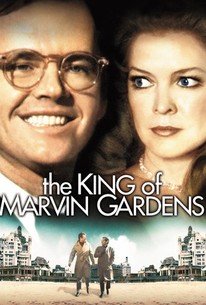 The King of Marvin Gardens Photos
Movie Info
Dreams die hard in wintry Atlantic City in Bob Rafelson's downbeat character drama. Depressive deejay David Staebler (Jack Nicholson) tends to his grandfather as he philosophizes on late-night Philadelphia talk radio. When his huckster older brother Jason (Bruce Dern) calls out of the blue one day, David travels to Atlantic City to see what his latest easy money scheme is. Along with his former beauty queen companion Sally (Ellen Burstyn) and her pretty stepdaughter Jessica (Julia Anne Robinson), Jason plans to open a resort on a small Hawaiian island, insisting to an initially skeptical David that the deal is as good as done. David plays along but, as he learns the reality of the situation, tries to talk some sense into Jason. Jason and his women will have none of it, leading to a tragic lesson about the cost of superficial values like beauty and wealth, and the limits of brotherly love. Rafelson's follow-up to his 1970 hit Five Easy Pieces once again questions American myths of success, with one brother unwilling to come to earth to realize his dreams and the other unable to do much beyond talk about his inertia to an unseen radio audience. With Five Easy Pieces star Nicholson as the introverted lead, and impressive cinematography by Laszlo Kovacs, The King of Marvin Gardens had the makings of another Hollywood New Wave hit. The response, however, was not what stumbling BBS Productions hoped, as Columbia barely supported the film and 1972 audiences were not as responsive to Rafelson's second exploration of contemporary alienation. The King of Marvin Gardens' artful depiction of disillusionment roots it firmly in the 1970s Hollywood art cinema, and its failure became one more sign of that cycle's popular limits.
Critic Reviews for The King of Marvin Gardens
Audience Reviews for The King of Marvin Gardens
Lucas Martins
Super Reviewer
½
Ellen Burstyn is crazy (as usual)
Graham Jones
Super Reviewer
Easily one of the most overlooked movies of the 70s. This has such a brave finale that completely changes the entire plot, character motives and mood of the movie. Bob Rafelson takes a story about two estranged brothers and turns it into something so much more engaging and memorable. Knowing Jack Nicolson, it's almost bizarre not to see him have multiple freak outs in a movie, especially during his 70s era of acting. He plays a really introspective and reserved character that honestly ends up being just as admirable as his more famous ones. Who really does end up completely dominating the movie is a completely unsuspecting Ellen Burstyn. When you think of character development, there is no better example than her in this movie. To see her go from a seemingly jolly and upbeat person into a train wreck of doom is an event you can't miss. This has all the great cinematography and direction that Bob Rafelson had with Five Easy Pieces, but this is a completely different take on America.
Conner Rainwater
Super Reviewer
The King of Marvin Gardens Quotes
There are no approved quotes yet for this movie.