King of California
(2007)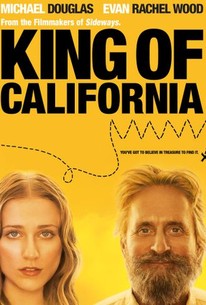 TOMATOMETER
AUDIENCE SCORE
Critic Consensus: A quirky and often touching comedy about a mature teenager and her manic depressive father, King of California is a charming tale of familial relations and treasure hunting.
King of California Photos
Movie Info
At the age of 16, Miranda has already had to live with her share of disappointments. Abandoned by her mother, she's dropped out of school and has been supporting herself as an employee at McDonald's while her father Charlie resides in a mental institution. When Charlie is released and sent back to their home, Miranda finds the relatively peaceful existence she's built for herself completely disrupted. Charlie has become obsessed with the notion that the long-lost treasure of Spanish explorer Father Juan Florismarte Garces is buried somewhere near their suburban California housing unit. Armed with a metal detector and a stack of treasure-hunting books, Charlie soon finds reason to believe that the gold resides underneath the local Costco, and encourages Miranda to get a job there so that they can plan a way to excavate after hours.
News & Interviews for King of California
Critic Reviews for King of California
Audience Reviews for King of California
½
Miranda: You don't take anything seriously do you? You think the world is just here for your amusement!  "We're all searching for something..." It took awhile for King of California to completely win me over, but in the end, it did. Mostly due to it's leads, Michael Douglas and Evan Rachel Wood. Both are really good in this father-daughter dramedy. I won't say that this is necessarily a great movie, but it is a rather good one. It seems to be missing something that would really take it over the top, but it survives never the less. Miranda is a 16 year old who has been living on her own for awhile. The reason? Her father, Charlie, has been in a mental institution. Well, he gets out, and it doesn't take long to see that he still seems crazy. He begins telling Miranda of buried treasure that's buried somewhere below the city. He has researched it all in the institution. Miranda has a tough time deciding whether to encourage him or tell him he is crazy, but along the hunt, the two begin to connect. I really liked the idea for the movie and Michael Douglas was the perfect choice for Charlie. He looks the part, with a thick, scraggly beard. Plus you know that Michael Douglas is going to play his character perfectly. Evan Rachel Wood nearly matches Douglas with her performance as the crazy guys daughter. She's really likable and you can always feel for what her character has and is going through. King of California is definitely worth a look. It's a brisk and somewhat emotionally moving film. It's quirky, but not too quirky to where it would be off-putting. The dramedy can be a challenging task, but in this case it worked well.
Melvin White
Super Reviewer
King of California is a wonderful drama comedy. I very much enjoyed the film, and I thought that Michael Douglas delivered one of his greatest performances here. The cast is great and story though a bit silly, is enjoyable and entertaining. King of California is one of those indie films that really are great, unlike such trash as Juno; this indie film really is a wonderful film. I very much enjoyed the film, and thought the story was great. The cast pull off something great here, and director Mike Cahill directs a strong film with effective pacing, and thought at times, it's slow; King of California always manages to be entertaining. After being convinced that there is treasure buried underneath their neighborhood Costco, Charlie sets out on a quest to discover it. In the process he reconnects with his estranged daughter. This film succeeds where so many indie films have failed. This film simply has a charming story and a good cast to boot. King of California is one of the best indie films that I have seen. The film blends good comedy, with drama and the story is engaging and entertaining. I thoroughly enjoyed this film, and if you're looking for a terrific independent film, give King of California a viewing. One of Michael Douglas' best films. This is a film not to miss. I absolutely recommend this film. A great film.
½
Cast: Michael Douglas, Evan Rachel Wood, Laura Kachergus, Will Rothhaar, Paul Lieber, Kathleen Wilhoite Director: Mike Cahill Summary: This quirky Sundance comedy from writer-director Mike Cahill chronicles the journey of a delusional father (Michael Douglas) who's convinced that a fabled treasure is buried somewhere beneath his Southern California suburb. His delinquent daughter (Evan Rachel Wood) -- a high school dropout who was abandoned by her mother and saw her father sent to a mental institution -- resists his ravings at first. But, eventually, she starts to believe. My Thoughts: "I really didn't know what to expect from this type of movie.. I thought I wasn't going to like it, but to my surprise I really enjoyed it.. It was funny, interesting, and deffinetly made you want to keep watching it just to see if there really was gold.. Its about a strange relationship between a daughter who has pretty much been on her own since her mother left them, and a father who is, by society, claimed mentally insane. But as it goes it just shows you what a genius he is. Its a good father and daughter movie.. I recommend it."
♥˩ƳИИ ƜѲѲƉƧ♥
Super Reviewer
King of California Quotes
There are no approved quotes yet for this movie.