The King Maker
(2005)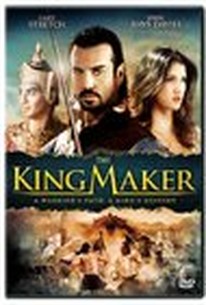 AUDIENCE SCORE
Critic Consensus: No consensus yet.
Movie Info
Sold into slavery by Ayuttayan Arabs during his quest to find the man who murdered his father, a vengeful Portuguese mercenary becomes entangled in a royal conspiracy that threatens to send an entire kingdom spiraling into war. When Fernando De Gama (Gary Stretch)'s was just a young boy, his father was slain by a stealthy assassin. Now Fernando has grown into a feared mercenary, and he has set his sights on the Orient in an effort to seek out his father's killer. After the ship he is sailing on capsizes and Fernando washes ashore on a tropical island, he is captured by Arabs, transported to the Thai kingdom of Ayutthaya, and sold into slavery. Despite the grim turn in his quest, fate seems to smile upon Fernando when the ravishing Maria purchases him from the Arabs and subsequently restores his freedom. Soon after falling in love with his kindly rescuer, Fernando discovers that her disapproving father is actually the man he has been searching for all along. When a Northern renegade pretender summons the wrath of the King of Siam and the nation is plunged into war, Fernando is reluctantly pressed into military service. If there's one thing Fernando knows it's warfare, and after gaining favor with the king for his impressive display on the battlefield Fernando is eventually recruited into the royal guard. Trouble is brewing in the royal palace, however, and when Fernando discovers a plot by the queen to murder her husband and win her lover a seat on the royal throne he vows to stop the diabolical plot before an entire nation is plunged into chaos.
Critic Reviews for The King Maker
There are no critic reviews yet for The King Maker. Keep checking Rotten Tomatoes for updates!
Audience Reviews for The King Maker
½
It was a good story, but the action, and characters were a bit cheesy with not strong abilities to make this a great movie. The set design was the only attractive thing in the movie. It could have been made better if it had a stronger director with great action. It failed at that. Unfortunately.
Donna Dawson
Super Reviewer
The King Maker Quotes
There are no approved quotes yet for this movie.