Kill Switch
(2008)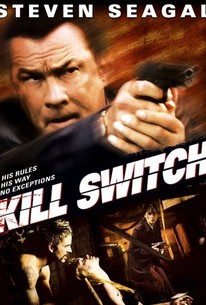 AUDIENCE SCORE
Critic Consensus: No consensus yet.
Movie Info
A decorated homicide detective faces off against a perverse serial killer against the backdrop of the depraved Memphis underworld in this action thriller starring Steven Seagal. Detective Jacob Stillwell (Seagal)'s reputation for exacting street justice has made him something of an icon among his colleagues in law enforcement, but with a cunning psychopath named Lazarus roaming the streets Stillwell can't lie back on his laurels. Lazarus has the residents of Memphis locking their doors at night and sleeping with one eye open, peering into the shadows in a panicked state of total fear. Now, as the killer becomes increasingly emboldened, Detective Stillwell dives headlong into the sordid underbelly of the city on a mission to hunt the hunter so that the citizens of Memphis can rest easy without having to fear for their lives.
Critic Reviews for Kill Switch
All Critics (1) | Fresh (1) | Rotten (0) | DVD (2)
It's actually kind of funny how they put a quick insert of Seagal's face in a shot where some dude shot from the back is wailing on a guy in front of him, completely obstructing the action. The kicker is when they have him dub one liners over it.
Audience Reviews for Kill Switch
This is truly the worst Seagal movie ever LOL I'm not gonna go on about this cos it doesn't merit the attention :) Seagal only has speaking parts as all the action sequences are now obviously a stuntman who is clearly thinner and younger :) and the fight sequences....well...what can I say....absolutely hilarious :) Ive never seen so much bad editing and the reuse of the same shot over and over again. I swear you see the same shot of Seagal grimacing about 9times during one fight. There's clearly no contact being made with the hits, the baddies never show any signs of the beating and keep getting up for more D'oh! they never learn LOL Seagal cant be hurt, give up. At the start when a bad guy gets chucked out a window, its repeated over n over at different angles and the same angles LOL its almost a spoof. Watch for the pure joy of seeing fat Seagal pretending to beat up fitter younger guys LOL
Phil Hubbs
Super Reviewer
Kill Switch Quotes
There are no approved quotes yet for this movie.