Kiki's Delivery Service
(1989)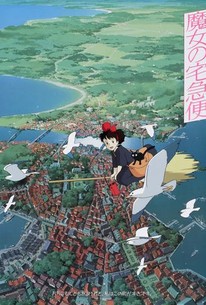 Kiki's Delivery Service Photos
Movie Info
Veteran animator Hayao Miyazaki directs this buoyant children's adventure yarn about a young witch striking out on her own. At her mother's behest, 13-year-old Kiki sets out on a year-long apprenticeship with her black cat in tow. With a shaky command of her broom, she ends up in a charming little coastal town that looks like a cross between the French provincial and San Francisco. Unfortunately, the local hotels have a strict "no witches" policy and the police have taken a dim view of her recent aerial mischief-making. She's saved from the street by a kindly baker's wife, who offers her room and board in exchange for her delivering by broom the baker's wares. Soon she befriends a college-aged artist, an old women who fusses over her, and a boy her same age who is nursing a massive crush. All is well until she wakes up one day and realizes that she can't make her broom levitate nor can she talk to her cat. What will Kiki do? ~ Jonathan Crow, Rovi
News & Interviews for Kiki's Delivery Service
Critic Reviews for Kiki's Delivery Service
Audience Reviews for Kiki's Delivery Service
An average Miyazaki film that doesn't develop so well its many elements into a cohesive narrative as it should - like for example the character's sudden loss of power and her inability to make friends. The result is amusing, even if not that satisfying.
Carlos Magalhães
Super Reviewer
½
even in the fantastical miyazaki gives us a realistic female character, something more true to life and down to earth than the princesses we normally get from animation with female leads. this film is a bit more reductionist than some of his better known films, and it moves a bit more slowly, but the story plays out as a bit of an allegory to the experience many of us have when looking at real life for the first time. the conversation between kiki and the girl at the cabin in the woods towards the end is something that just about all people can relate to, and it puts this film and life in general in genuine perspective. not as provocative as some of miyazaki's best films, but still good.
½
The first film by Hayao Miyazaki that I saw. It's still his most purely enjoyable film and features one of his best heroines.
Kiki's Delivery Service Quotes
There are no approved quotes yet for this movie.