Kicking & Screaming
(2005)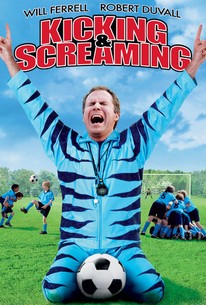 Kicking & Screaming Photos
Movie Info
Will Ferrell stars as Phil Weston, an average Joe who's had to put up all his life with his overly competitive father, Buck (Robert Duvall). When Phil decides to coach his 10-year-old son's soccer team, he goes head-to-head for the league championship against Buck, who coaches his own young son on the preeminent team of the league. Old scores come into play as Phil and Buck find themselves going to extreme measures to win the championship trophy.
News & Interviews for Kicking & Screaming
Critic Reviews for Kicking & Screaming
Audience Reviews for Kicking & Screaming
Im sorry if you didnt like this, but I just enjoyed it. Will Ferell is my favorite comedian, and man this movie would suck without him. The story and everything else is pretty weak, but Ferell makes it work. With a few cliche and dumb moments, this movie was just okay, but Ferell just naturally made this a funny movie.
Jim Careter
Super Reviewer
Another Will Ferrell vehicle. Kicking & Screaming is more of the same garbage that Ferrell serves up. A few snipits of the film are comical, but don't hold up because the humour gets stale and overuused too quickly. The film rellies too much on Ferrell's one trick antics to create it's humour and doesn't work. Ferrell was pretty good in Zoolander, and decent in Old School; but in this case, big budget studios use the same formula for every film he stars in, and use his one dimensional comedy to try to make something funny. It worked for maybe three films, but when you've spent 7 films doing the same thing, it gets old. Avoid.
½
Will Ferrel is great, and that's what saves this average comedy!
Kicking & Screaming Quotes
There are no approved quotes yet for this movie.