Khane-ye doust kodjast? (Where is the Friend's Home?)
(1987)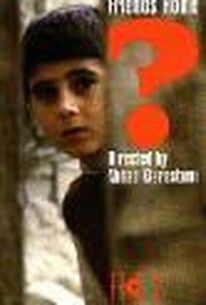 Khane-ye doust kodjast? (Where is the Friend's Home?) Photos
Movie Info
The film that established director Abbas Kiarostami's reputation outside his native Iran, Where Is the Friend's Home? tells a simple story in such a spare fashion, many critics found its impact to be almost subliminal. As the film opens Ahmed (Ahmed Ahmed Poor), a grade schooler, watches as his teacher (Kheda Barech Defai) berates a fellow student, Mohammed (Babek Ahmed Poor), for repeatedly failing to use his notebook for his homework , threatening expulsion on the next offense. When Ahmed returns home, he realizes he's accidentally taken Mohammed's notebook. Against his mother's orders, he sets out in search Mohammed's house, encountering false leads, dead ends, and distractions as he attempts to enlist adults in his search. ~ Keith Phipps, Rovi
Critic Reviews for Khane-ye doust kodjast? (Where is the Friend's Home?)
Audience Reviews for Khane-ye doust kodjast? (Where is the Friend's Home?)
½
Kiarostami crafts an incredibly sensitive and deceptively simple film that shows a lot about a strict society in which adults don't listen to children, creating a lingering impact on the viewer as we follow the action take place mostly from the point of view of a generous kid.
Carlos Magalhães
Super Reviewer
Cute but saddening tale from Kiarostami. Another great slice of Iranian life from the master director. I think the viewpoint of a child makes this all the more compelling. The child can squeeze in places and situations much more efficiently than an adult could in the same situation.
John Ballantine
Super Reviewer
a really simple and lovely film that's a good place to start with kiarostami. the untrained child actors are marvelous here. a young boy has taken his friend's notebook by mistake and must return it to keep his friend from being expelled, but he doesn't know where the friend lives. the boy is blocked at every turn in his quest to do the right thing by adults who won't listen or help. nerve wracking suspense! and i am only half joking :p
Stella Dallas
Super Reviewer
Khane-ye doust kodjast? (Where is the Friend's Home?) Quotes
There are no approved quotes yet for this movie.