Keanu
(2016)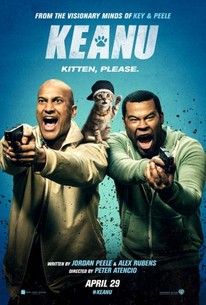 TOMATOMETER
AUDIENCE SCORE
Critic Consensus: Keanu's absurd premise and compulsively watchable starring duo add up to an agreeably fast-paced comedy that hits more than enough targets to make up for the misses.
Movie Info
Keegan-Michael Key and Jordan Peele star in this comedy as two friends posing as drug dealers to get back a stolen cat. Peter Atencio directed.
News & Interviews for Keanu
Audience Reviews for Keanu
½
It's a glorified episode of Key and Peele that has enough humor to cover up the pure nonsense. Keanu combines cute-kitty love & the quirky duo of its leads for a silly, wacky film that is senseless to its core but capable of a good number of laughs along the way. 3.5/5
Eugene Bernabe
Super Reviewer
The gist of most of the humor revolves around the ol' chestnut of people who are not black trying to sound, talk, and act "black" (even if they are black? Doesn't matter, it's still the same old tired joke = "black" is funny, har-de-har-har "dey iz so stupid"). If that spins yer prop then this is for you.
Kevin M. Williams
Super Reviewer
½
Jordan Peele and Keegan Michael-Key are gifted comedic performers, as often evidenced from their often-brilliant sketch comedy show Key & Peele. It was only a matter of time before they made the leap to feature-film players, and Keanu is a suitable springboard for the gents that portends to even better future results. Relying upon mistaken identity bluffs, Peele and Key play a pair of relatively straight-laced men who pretend to be violent gangsters in order to retrieve Peele's stolen kitten. Fortunately, the movie doesn't feel like an overextended sketch though it does have its narrative detours that dawdle (a celebrity drug deal is padded out with far too few jokes), running jokes that hold on for a beat too long and then some (the George Michael fascination culminates in a drug sequence that does absolutely nothing), and there are missed opportunities that seem obvious (Key using his new gangster friends to intimidate a man making advances on his wife). Will Forte's hip-hop loving drug dealer feels like a character nobody knew what to do with, including Forte. What doesn't disappoint is the natural comic chemistry of its leads as well as the movie's ability to surprise, zigging rather than zagging, and finding small jokes just as satisfying as larger set pieces. I enjoyed when the guys insecurity butted against their bravado, like when Peele is trying to deflect credit for helping his new pal to do some very bad things. The onscreen action is somewhere between the wackier world of 21 Jump Street and the grisly, unfunny world of Pineapple Express but at least the filmmakers realize that an action-comedy still needs to present its action through a comic lens. I was laughing consistently throughout though it was mostly at a chuckle level, if I were to be honest. Keanu is a fairly fun comedy that you can't help but thinking could have been more refined during its structureless periods, but then another joke appears and it's hard to get too upset with the final enterprise. Keanu is funny enough but you sense that a better vehicle is on the horizon for these two gifted comedians. Oh and the cat is powerfully adorable. Nate's Grade: B
Nate Zoebl
Super Reviewer
Keanu Quotes
There are no approved quotes yet for this movie.