Kagemusha
(1980)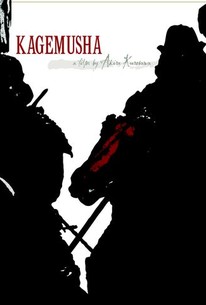 Movie Info
In this film, filmmaker Akira Kurosawa spins the tale of a mighty Samurai warrior whose services are so much in demand that he's forced to dispatch doubles of himself. When the warrior dies, petty thief Kagemusha is spared from execution if he agrees to take over for his dead master.
Critic Reviews for Kagemusha
Audience Reviews for Kagemusha
Towards the end of his career, Kurosawa began having difficulty securing funding for his increasingly ambitious projects, which led to gaps of several years between them. He ended up getting this particular film made almost entirely because of support from the likes of George Lucas and Francis Ford Coppola. And, in an ironic twist, as his eyesight began to fail him, Kurosawa's films began to increase in their visual splendor. Set in the 16th Century, this is an epic film centered on a quest for control of Japan between three warlords. The film primarily focuses on one in particular. As he nears death, Shingen Takeda employs the services of a petty thief who looks nearly identical to him to be his double. When Takeda does eventually die, the simple ruse turns into a monumental task for the titular Kagemusha (double/shadow warrior). Unlike some of his other films, this one is less concerned with sweeping battle scenes, and is primarily an intimate character study focusing on themes of identity, what it means to fill a role, etc. It's not as heavy as you might think, but it is definitely very poetic. I liked this, but I didn't get quite as into it as I could have. For one, I didn't have the option to watch this with the commentary (or at least the first 20 minutes), which I had read clears up come early confusion about what is going on, who is who, and contextualizes it all. That could have helped, though I managed to get the gist of it anyway. Also, I unfortunately only got to see the original western release version, which is 20 minutes shorter than the original release, which is also the same as the Criterion cut. Had I gotten to see the longer cut, I think I really could have been swept up in this epic, yet intimate artwork. Despite my gripes, the film is indeed gorgeous to look at. It's what you'd expect from AK, but it still bears repeating how wonderful the cinematography is. The period details are likewise top notch, and can be greatly appreciated, even if one isn't familiar with the historical time period and context the film is set within. In the crucial double role of man and impersonator, Tatsuya Nakadai is quite solid, given a rather subdued, but still gripping turn as a man and, especially, his double. Everyone else is okay, but, seem to be there merely as a backdrop for what is almost totally carried by one actor. The film is long, and admittedly a tad draggy and boring here and there, but overall, it's quite a spectacle. Oddly enough, the battle scenes are mostly off screen and the bulk of what's shown is the aftermath. It's still well done though. Whether you're a die hard or a newbie, you should give this one a look.
Chris Weber
Super Reviewer
½
Another magical story bring by Kurosawa.
Lucas Martins
Super Reviewer
½
After a tribal leader is killed, his advisers use a double to masquerade as their dead leader. Akira Kurosawa, a master story-teller and a filmmaker whose stylistic flair is almost unmatched, brings a story that is simply unworthy of his talents. It is essentially a Japanese version of Dave (or more accurately stated, Dave is an American version of Kagemusha), and it is only Kurosawa's beautifully framed shots, engaging action choreography, and eye for character detail that keeps this film from descending into the obscure and banal wastefulness that plagues its latter-day American counterpart. Yes, I understand that Dave was meant as a cheeky comedy and Kagemusha is supposed to be profound, but I fail to see the profundity. Overall, this film is lesser Kurosawa, still engaging but far from the greatness of The Seven Samurai and Rashomon.
Jim Hunter
Super Reviewer
Kagemusha Quotes
There are no approved quotes yet for this movie.