Kaboom
(2011)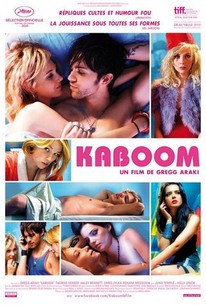 Movie Info
"Kaboom" is a hyper-stylized "Twin Peaks" for the Coachella Generation, featuring a gorgeous young cast. A wild, witty and sex-drenched horror-comedy thriller, it is the story of Smith, an ambisexual 18-year-old college freshman who stumbles upon a monstrous conspiracy in a seemingly idyllic Southern California seaside town.
News & Interviews for Kaboom
Critic Reviews for Kaboom
Audience Reviews for Kaboom
½
A disjointed film in which everything seems painfully arbitrary and with no sense of purpose, suffering from an unfocused script, a clumsy direction and an expository last scene - and it isn't funny as a hipster comedy nor intriguing enough as a mystery as it wants to be.
Carlos Magalhães
Super Reviewer
Kaboom is a schizophrenic melding of two different films. It presents a mildly entertaining, bizarro apocalyptic fable that is buried under a lot of drek. What a shame that everything is ultimately explained in a hastily executed wrap up in the last 10 minutes. The explosive streams of vernacular coming from the mouths of the entire cast is a recklessly spoken explosion of words meant to clarify what we've been watching. It renders the whole account as arbitrary and meaningless. I couldn't possibly do justice to the ridiculous conclusion. Perhaps the producers were running out of money and Araki had to quickly end this mess. I know you pretty much get what you deserve when you choose to watch a Gregg Araki flick, but good heavens, Kaboom is really out there, even for him. fastfilmreviews.wordpress.com
Mark Hobin
Super Reviewer
½
Won't be for everyone, but I quite liked it. Visually pretty to look at with an attractive cast. The story is way out there, but anyone who's seen this director's work before knows what to expect - weirdness. If you like a conventional storyline or are homophobic, you're probably better to avoid this, but those who like something a little different may find this interesting.
Nicki Marie
Super Reviewer
Kaboom Quotes
There are no approved quotes yet for this movie.