K-9
(1989)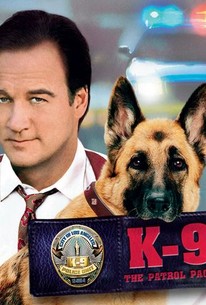 Movie Info
James Belushi stars in this cop actioner about a loner narcotics officer who has to break in a new partner. The twist here is that the new partner is barely housebroken, but he's still sharp and keeps his nose close to the ground. Dooley (Belushi), who works on the San Diego narc squad, is an eccentric guy who has pizzas delivered to his car and likes a good steak. He is working on a stakeout of a local drug dealer when he barely escapes with his life as a helicopter blows up his car. When he asks the department for a new car, they give him a new partner instead --a police dog called Jerry Lee (Jerry Lee the Dog). Jerry's good at sniffing out the criminals but Dooley doesn't really hit it off with his new partner until the pooch saves his life.
Audience Reviews for K-9
½
Back in the day, this was probably the first time in my life that I discovered Hollywood made identical movies. Maybe it was something I had missed previously or just never thought about, or maybe it was a simple case of this being way too obvious to miss. Of course the other movie I refer to is the Tom Hanks vehicle 'Turner and Hooch'. It wasn't really until the mid to late 90's that I started to notice this identikit film making occurring again. The plot couldn't be simpler, its essentially a spin on the old trusted buddy cop movie. Just remove one of the human elements and replace with a dog and watch the hilarity ensue. And that's the plot in a nutshell. Loose cannon and smartass Chicago detective Dooley (James Belushi) needs a partner, but he's none to happy about getting one. His by the books chief basically tells him you're getting a partner, like it or lump it. So in order to kinda avoid getting a partner Dooley opts for a police dog, easy right? Well guess what?? Yeah its not easy, in fact the dog turns out to be an intelligent nightmare that doesn't like orders (did ya see that coming?). So this oddball duo of unruly K-9 and wise cracking cop must work together to take down some stereotypical 80's drug kingpin type. Now essentially you have to remember that back in the day when this movie came out, buddy cop flicks were all the rage. These fast paced, profanity ridden, violent cops vs criminals flicks were the equivalent of superhero flicks right now, they were literally ten a penny. Naturally most flicks went through the obvious ideas of different racial double teams, age differences, sensible and crazy, by the books and not so etc...So at the end of the day this movie actually had an original concept, well one, everything else was your standard fair. Its been a long long time since I saw this movie and its really quite scary how dated it is (and how old I've gotten). One of the first scenes sees Dooley sitting in his car playing on a Nintendo [i]Game & Watch[/i], back when those little gems were considered mobile gaming. It was so odd to watch this scene because I fully remember thinking back in the day how cool those Nintendo handhelds were and how much I really wanted one. Its also cute to notice that all the sound effects you supposedly hear from said game, clearly do not, those games didn't make sound that advanced. There is actually a lot of dubbing going on in this movie. Obviously the dog can't talk so in order to add extra emotional impact to scenes throughout the movie they stuck in lots of growling and whining type dog noises. Again its funny now because when I was a kid I thought the dog was actually making those noises. Indeed I can't deny that this idea does work on a number of occasions, nothing hilarious of course but its amusing. In fact the chemistry between Belushi and the dog is one of the high points of the film (well it would have to be really wouldn't it). Belushi is clearly having a blast over acting and showing off, but this isn't annoying surprisingly. He genuinely comes across as a cool bloke, someone you'd be happy to have a beer with. His character is very likeable and down to earth, whilst his interactions with the dog are also very likeable and fun. Sure its all very predictable these days, you know exactly the kind of stuff that your gonna see here (doggy poop, loud barking, breaking stuff, chewing stuff, eating stuff, looking cute etc...), but its enjoyable. On the flip side of being cute the dog also turns out to be a badass when it comes to taking down criminals. Again this is not something that is much of a surprise, of course the dog will be cute and cool at the same time. Of course the dog will be unruly and rebellious, and of course the dog will also save Dooley's ass and basically reverse the roles. Yes that's right, Dooley for the most part is basically the doofus of the duo, where as the dog is the clever detective, cute huh. Speaking of baddies, the main antagonist in this movie (played by the wonderfully evil looking Kevin Tighe) is the absolute epitome of 80's action movie villains. He's a middle aged executive looking boss (a slick suit) who's clearly loaded and clearly pretty old and in need of henchmen to carry out his dirty work. In fact, like many action movie villains, he's clearly so loaded you do kinda wonder why he's doing what he's doing. Just looking around at this guys property, cars and general lifestyle, he seems to be doing pretty well for himself, so why risk it all? Naturally all his henchmen are slick suits, you know the type, they just stand around looking smart and obey every order. I always wonder if these guys actually have any sort of personal home life, or if they're maybe gay with their boss...because they mindlessly obey and never leave his side. This is one of those movies that was pretty cool back in the day because that's all you knew, but nowadays its generic as fuck. For the most part its mainly all about the comic interactions between Belushi and the dog (of which there were many used). Most of the actions sequences are pretty standard fair except for the ones which involve the dog attacking (obviously heavily padded) people and biting their crotch. Its all directed well and looks good truth be told but that can't hide obvious stunt doubles, bad dubbing and a very lightweight plot. Oh and the blatantly obvious emotional hook where the dog gets shot is (or was) obvious and highly predictable. As was the sequence where you think the dogs dead but low and behold he's not! As if the movie would [b]ever[/b] end with the flippin' dog being shot to death, come on people. In short, Belushi is a hoot I can't deny; this was back in his heydays when he was actually a biggish draw. How funny is it to watch Belushi clutching the dogs leash whilst he's being helplessly dragged across the background of a shot? Pretty funny actually. The movie is definitely fun and (I think) much better than the alternate Tom Hanks version. This feels more for adults where as the latter was more soppy. We could of done without the whole doggie sex thing with that ugly poodle though.
Phil Hubbs
Super Reviewer
Was better went Tom Hanks do.
Lucas Martins
Super Reviewer
It's been a while since I've seen this.
Tim Salmons
Super Reviewer
K-9 Quotes
There are no approved quotes yet for this movie.