Justice League: War
(2014)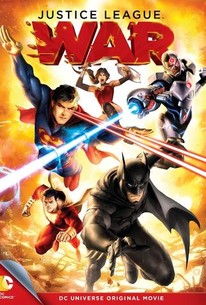 Movie Info
Based on the graphic novel by Geoff Johns and Jim Lee, seven heroes must band together for the first time to stop an alien invasion.
Critic Reviews for Justice League: War
Audience Reviews for Justice League: War
It's vivid and plentiful in action. Justice League: War swoops in with an expressive story and animation centering the formation of the DC-superhero-super-team. 4/5
Eugene Bernabe
Super Reviewer
Warner Brothers interesting tactic (of focusing on animation rather than live action) bears some tasty offerings and you could do worse than this one. Alien soldiers are attacking the Earth and the heroes discover, each on their own, that fighting singularly is not cutting the mustard, and so they must band together to be effective. The journey keeps one involved (for instance, Batman's intelligence is shown as kind of a superpower) and working together does not come naturally to these loners, making this worth your time if following the supers is a life choice.
Kevin M. Williams
Super Reviewer
½
While War is a more generic superhero film than The Flashpoint Paradox was, it is just as enjoyable thanks to a likable cast and entertaining action sequences featuring all the of the characters from the Justice League. I've always wondered if they were gonna do an origin story film for the Justice League and I'm glad they finally did. The voice cast is changed from the last film and they do a solid job filling in, but Kevin Conroy is always missed when he doesn't participate. The story itself is mostly just to find a reason to put all these characters together and make them work as a team. Eventually the story gets out of the origins and into generic action film territory, but it is just interesting enough to hold your attention. This is a worthwhile addition to the animated features.
Josh Lewis
Super Reviewer
Justice League: War Quotes
There are no approved quotes yet for this movie.