Justice League: The New Frontier
(2008)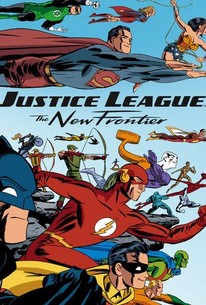 AUDIENCE SCORE
Critic Consensus: No consensus yet.
Justice League: The New Frontier Photos
Movie Info
Adapted from the six-issue comic book series originally published in 2004, the animated adventure Justice League: The New Frontier follows the epic adventures of Superman and his fellow DC Comics superheroes from the end of World War II to the global tensions of the Cold War. In addition to detailing the ultimate fate of DC war comic squadron The Losers and showing how reluctant fighter pilot Hal Jordan made the stunning transformation into The Green Lantern, the film also follows Superman and Wonder Woman as they struggle with their involvement on the East Asia battle arena, finds the Martian Manhunter arriving on planet Earth, and showcases John Henry's valiant struggle against the evil Ku Klux Klan.
News & Interviews for Justice League: The New Frontier
Critic Reviews for Justice League: The New Frontier
Audience Reviews for Justice League: The New Frontier
How the JLA came together in a nutshell. A small nutshell. While it's good that the focus goes broader than simply Batman and Superman for a change the justice done the other frontrunners in the DC universe is not really justice. The work has a curious retro look going for it that's not offputting and the actors (quite a few names!) and music do well. If only it had been better written.
Kevin M. Williams
Super Reviewer
Good animated movie. I love all the superheros involved especially the Flash one of my favorites all-time. I like how they did not concentrate in one character only and divided there attention into all throughout the movie. Adapting the award-winning DC Comics miniseries DC: THE NEW FRONTIER by Darwyn Cooke, Justice League: The New Frontier spins a tale of the DC Universe in the 1950s, focusing on test pilot Hal Jordan (Green Lantern) and the Martian Manhunter. The story also features other DC characters, including Barry Allen (the Flash), Superman, Wonder Woman, Batman, and many more.
29/05/2010 (DVD) Its the New "Justice League" in the 1950's! Its fun watching most of the popular "Super Heroes" in one flick but what I enjoyed most was the story telling. This version was awesome! Its darker and more sinister. I also got a glimpse of some of the other "Justice League" members who were gradually taken out of the group during the comics. The animation is fantastic and from the credits I noticed a lot of Asian names, most likely Japanese and Korean I believe who mostly dealt with the art and animation department. I hope they do more like/of this!
EightThirty .
Super Reviewer
Justice League: The New Frontier Quotes
There are no approved quotes yet for this movie.