Just Visiting
(2001)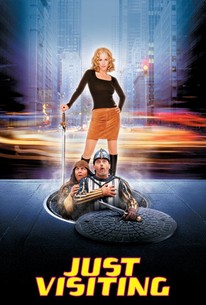 TOMATOMETER
AUDIENCE SCORE
Critic Consensus: This remake of the French comedy Les Visiteurs ends up being a middling, forgettable effort -- not as good as the original.
Movie Info
Lots of people find themselves in the wrong place at the wrong time, but this comic fantasy takes that notion to a whole new level. Count Thibault of Malfete (Jean Reno) is a brave warrior and respected nobleman in 12th century France. Count Thibault has won the heart of the lovely Princess Rosalind (Christina Applegate) and has a loyal servant in the loyal but half-bright Andre (Christian Clavier). But Thibault's world is turned upside down when an aging wizard demonstrates a new potion that can allow people to travel though time. The concoction works a bit too well, and Thibault and Andre find themselves transported to the year 2000, landing in a museum in Chicago where relics of Thibault's reign are on display. Julia, a museum employee who bears a striking resemblance to Princess Rosalind, finds the visitors and becomes their unofficial guide to life in the Windy City at the dawn of the 21st century. Thibault soon discovers that the young woman is actually descended from his family, and he realizes he has to get back to the 12th century before his absence prevents Julia from existing. Andre also discovers that indentured servitude is no longer common in the 21st century, and he and Thibault have to adjust to the American notion of freedom and equal rights for all. Just Visiting is based on the popular French comedy Les Visiteurs; Jean Reno and Christian Clavier reprise their roles from the earlier film, and the director of the original version, Jean-Marie Poire, also helmed this remake; Clavier and Poire collaborated on the script, as they did for Les Visiteurs.
Critic Reviews for Just Visiting
Audience Reviews for Just Visiting
Lucas Martins
Super Reviewer
½
This movie is hilarious. I haven't seen the original movie but I really liked this one, mostly because of Jean Reno and Christina Applegate. The storyline is great and many scenes are absolutely hilarious. I can imagine why people dislike this movie because it is not supposed to be taken quite seriously, it is indeed very silly. I will always love movies about time travel.
Naughtia Nahazhina
Super Reviewer
½
I loved this movie. Totally hilarious. Loved how the characters react to 21st century life style and brought with them their hilarious habits and way of life from the past. This movie is a must see!! We rented it and watched it five times in five days. Highly recommended for a great laugh! Andre is very funny and it is great to see him realize that he can be a free man and finally stand up for himself. It helps us realize how inhumane the treatment of "slaves" were in ancient history. Helps us realize how much we take for granted in the 21st century too. This movie is like a mix between Monty Python's Quest for the Holy Grail and Napoleon Dynamite, at least that is what type of satirical humor it reminds me of and I think both of those movies are absolutely hilarious as well, the kind that you like to watch again and again and find yourself quoting over and over and laughing. It was a great movie!!
Cassandra Maples
Super Reviewer
Just Visiting Quotes
There are no approved quotes yet for this movie.