Just Imagine
(1930)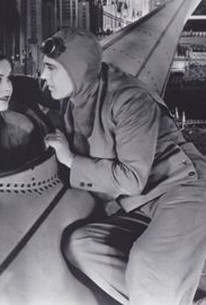 AUDIENCE SCORE
Critic Consensus: No consensus yet.
Movie Info
Made in 1930, this well-known sci-fi musical chronicles the adventures of a lightning-struck man who awakens to find himself in futuristic New York City, circa 1980. He finds it a strange new world where fantastically attired people are ascribed numbers rather than names and all marriages must be government-approved. He also finds a bewildering array of technical gizmos and innovations that include babies grown in test tubes, videophones, and automatic doors (could the filmmakers see into the future or are our innovations the result of self-fulfilling prophecy?). The story centers on his attempts to get the government to sanction his marriage to his modern girl love. Before the feds will approve, the fellow must prove his worth. He does so by boarding a Mars-bound rocket. Upon the red planet he discovers that it is populated by replicas of the people living on Earth. The film's songs are dismal, but of course that is part of the campy fun.
Critic Reviews for Just Imagine
All Critics (2) | Fresh (1) | Rotten (1)
Very esrly and strange sci-fi, and a musical at that, by director David Butler
More of a curio of the science fiction film than a genuine entertainment experience. But visually it is very interesting
Audience Reviews for Just Imagine
The thing about sci-fi, predicting how technology will change our lives, hindsight being 20/20, is that it all looks so easy, like not so much of a thing, but its harder than it looks and here is a work in particular that proves that point exactly. A hackneyed convolution of cornball and greasy charm, they've literally thrown in everything and the kitchen sink in this look into the crystal ball. First they go back, 50 years back, before 1930, and are wistful about those halcyon days of yore. "Things were simpler then ..." Then we plunge into the future where all the architecture, interior design, and even the furniture is art deco (yeah, it looks old now, but when they made it, when it was hot, it was supposed to be "THE FUTURE!"). The government controls everything, folks have numbers instead of names and they eat little pills instead of real meals. Now there's a typical story here as well about boy gets girl, but it's of little importance beside the extravagances of speculation of what life will be like in the future. And its a musical too. Interesting about the film is not what they got wrong (and they do that easily 75% of the time) but what and how our grandparents, our great grandparents, and our great-great grandparents dreamed about what was to come. Some of the fantasies are wild and nutty, but most retain significant parts of the culture of their time, like they knew things were gonna change but kept their dreaming in a way they could still understand so that it didn't get far away from them. In one scene people blithely stand mere feet away from a rocket taking off. One central character is not only Jewish, but Jewish played for laffs no less (Woody Allen's Sleeper was only 43 years away), implying that in the future, in 50 years, racial hatred would be done away with (and this hope for the future only a couple of years away from the Holocaust) I loved this movie for that quality. On its own, its pretty hokey now, but at one time somebody saw this and was amazed at what the future could be like.
Kevin M. Williams
Super Reviewer
Just Imagine Quotes
There are no approved quotes yet for this movie.