Just Buried
(2007)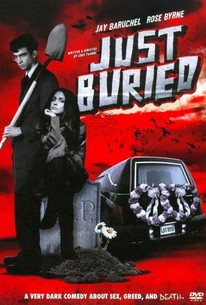 Movie Info
The young heir to a family funeral home discovers that death can be quite a tricky business in first-time feature filmmaker Chaz Thorne's blackly comic tale of fate and formaldehyde. Oliver (Jay Baruchel) has just been called home to attend the funeral of his father, Rollie (Jeremy Akerman). Having not seen his recently deceased dad for some years now, Oliver is somewhat taken aback to view the old man's videotaped will and learn that he has been chosen as the one to inherit the family funeral home. In the video, Rollie spun a wheel to determine who would be the recipient of the once-thriving business, but in reality the patriarch performed 11 takes just to get the wheel to stop on Oliver's name. Rollie was convinced that Oliver possessed the power to bring the funeral home back from the brink, and it isn't long before the boy who fears death the most is managing the mortuary. Now, as Oliver does his best to overcome the financial roadblocks that lie ahead, thwarted heirs attempt to sabotage his efforts at every turn. Eventually, Oliver begins to seek solace in the company of enchanting mortician Roberta (Rose Byrne) -- who has worked at the funeral home for several years. When the frazzled new funeral-home owner accidentally runs over an eccentric pedestrian and Roberta reveals herself also to be the county coroner, it quickly becomes apparent to the duo that their unique relationship could serve to mask a multitude of sins. ~ Jason Buchanan, Rovi
Critic Reviews for Just Buried
Audience Reviews for Just Buried
This funeral home based dark comedy is somewhat of a rarity. It does not pull any punches, at times is gritty, and resolves itself with quite a satisfying ending. The fact that other than Graham Greene's character, no one will elicit any sympathy just adds to the fun. If you like death as a motivation for personal gain, then "Just Buried" is a must see. The acting and character development is quite good for this limited budget endeavor. It is funny, never boring, and at times unpredictable. The conclusion especially is surprisingly original. I recommend this black comedy for both it's creativity and entertainment value. 4 stars 8-19-13
Bruce Bruce
Super Reviewer
One of the better Canadian farce movies around. Certainly not a textbook plot. The characters are pretty twisted and its a funny movie.
Kind of weak, but picks up at the end just enough to make it worth a watch... just... Main problems with this are that Rose and Jay are just not at all a convincing couple, for some reason he seems way too young for her, the story is pretty hard to swallow as well, even for a black comedy, and it's kind of ugly to look at most of the time. This looked like it was going to be great from the cover, so I really was disappointed to find it so average,.
Nicki Marie
Super Reviewer
Just Buried Quotes
There are no approved quotes yet for this movie.