Jurassic Park III
(2001)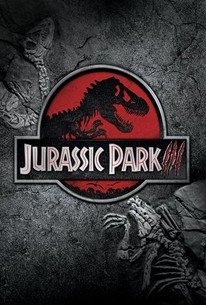 TOMATOMETER
AUDIENCE SCORE
Critic Consensus: Jurassic Park III is darker and faster than its predecessors, but that doesn't quite compensate for the franchise's continuing creative decline.
Movie Info
Director Joe Johnston takes over the creative reins from Steven Spielberg for this third installment in the thriller franchise. Sam Neill returns as Dr. Alan Grant, a scientist who's tricked by wealthy couple Paul and Amanda Kirby (William H. Macy and Tea Leoni) into a fly-over of Isla Sorna. The object of their sightseeing tour is one of the Costa Rican islands populated by ferocious, genetically bred dinosaurs and the "site B" setting of Jurassic Park 2: The Lost World (1997). After their plane crash-lands, it's revealed that the Kirbys are actually seeking their teenage son, lost on the island after a paragliding accident. Trapped on Isla Sorna, Grant and his companions discover some painful truths the hard way. Among their discoveries: some of the scaly monsters possess more advanced communicative abilities than previously believed, the dreaded Tyrannosaurus Rex has a larger and more lethal competitor, and flying Pteranodons pose an even graver threat than some of their land-locked brethren. Jurassic Park III is the first in the series not to be based upon a novel by original author Michael Crichton. ~ Karl Williams, Rovi
News & Interviews for Jurassic Park III
Critic Reviews for Jurassic Park III
Audience Reviews for Jurassic Park III
The third installment is darker and edgier than its previous two but it's still not enough to impact its audience. Jurassic Park III's ominous tone may be a plus but the dull narrative doesn't do it just and ultimately becomes flat to add on to the franchise. 3/5
Eugene Bernabe
Super Reviewer
½
Here we are in the homestretch of this shaky trilogy, and people probably went into this movie, scared out of their minds about how it will compare to both the original and the terrible sequel. I truly believe it falls safely in the middle of both. It will never be considered as great as the first by any means, but it is eons better that the film that preceded it. As a boy and his father are lost on the island after wanting to view it, their family is out looking for them, and who better to trick into coming with them than doctor Grant. With much better effects, a solid story, and a script that cares about it's source material, "Jurassic Park 3" is a very entertaining film from start to finish. You can completely skip the second film and come to this. They have pulled the series out of the gutter.
½
An unnecessary sequel that only provides shallow thrills thanks to a few intense situations. The plot is a predictable series of loosely stitched together chase scenes, the characters are pretty stock, and the visual effects have certainly lost their wow factor (in fact they look even more dated than the first two). The actors do their best and having Sam Neill reprise his role as Dr. Alan Grant certainly does not hurt matters but the cliche script provides little substance for the actors to work with. As long as you don't compare this to the first movie too much, their are some neat ideas at play. The bigger and deadlier Spinosaurus is a cool new addition to the franchise while the most original sequence involving the flying Pteranodons is also a decent highlight. If you can withstand a half-baked plot and dumb characters, then "Jurassic Park III" provides a decently short distraction, otherwise just watch the other two and skip this last entry.
Christopher Heim
Super Reviewer
Jurassic Park III Quotes
There are no approved quotes yet for this movie.