Judgment Night
(1993)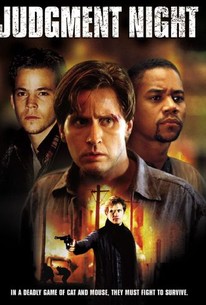 Movie Info
A wrong turn leads a group of suburbanites into the most violent section of Chicago, where they must fight for their lives against a lethal street gang.
Critic Reviews for Judgment Night
Audience Reviews for Judgment Night
Back when Dennis Leary wasn't really well known (to me at least) he made quite the intimidating bad guy in this semi decent thriller. Since then he became much bigger and for me this menacing image faded somewhat. He was no longer some random psycho but a famous face on a comedy sitcom. Other cast members include the once big time thing Emilio Estevez, Cuba Gooding Jr who seems to fade in and out of the limelight, Stephen Dorff who also tends to have a roller coaster career and Jeremy Piven who is one of these actors I dunno what genre he belongs in, but he can't do any. The film is simply about a group of regular guys that get lost when they stray off the highway in their RV. They end up witnessing a murder and having the killers on their tales trying to whack them. Simple yet effective, or it can be, and this just about does the trick. Its a bit weird though frankly, the area they get lost in seems to be an almost deserted ghost town with not a living sole on the streets or any cars what so ever. You'd be forgiven for thinking they have strolled into some kind of alternative dimension and the film is a fantasy of sorts. The film is tense in spots but not really that worrying, you know nothing will happen to most of these guys and obviously all the bad guys will bite the dust. The film looks pretty good though, very dark, bleak, heavy shadows, empty abandoned looking buildings everywhere and plenty of trash blowing in the wind. Its just really odd that the good guys are completely unable to get themselves out of this nasty area haha all they gotta do is follow a main road surely. I suppose you could call it artistic license huh the lifeless streets and area. Hopkins certainly does a good job on the visuals and manages to make a reasonable thriller despite casting Gooding in a lead role. A nice sensible turn on 'The Warriors' if you like but its quite tame now and the ending for Leary's character is weak.
Phil Hubbs
Super Reviewer
Denis Leary's portrayal of a deadly gang leader is a perfect example of playing the "oppposite" with his dry sense of humor, and that hard to distinguish smile. Definately someone who deserves much more credit as an actor. The film consists of four friends on their way to a boxing match that get caught in gang-land as they get off the freeway in hope of a quicker route to their destination. All hell breaks loose when they believe they hit a young man who they bring aboard their RV to help, but learn that help is something devoid in this particular area.
Often overlooked, this cat-and-mouse thriller, I always thought, was very well executed.
Tim Salmons
Super Reviewer
Judgment Night Quotes
There are no approved quotes yet for this movie.