Johnny Be Good
(1988)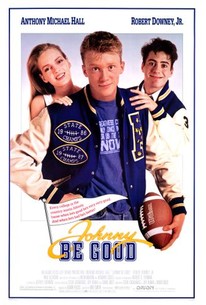 Movie Info
Anthony Michael Hall stars as Johnny Walker, a much sought-after high school football star whom every collegiate program wants for their own.
Critic Reviews for Johnny Be Good
Audience Reviews for Johnny Be Good
Wacky, Wild, and a HILLARIOUS made movie!!! (:
Cassie Hill
Super Reviewer
It's movies like this that give 80s teen flicks a bad reputation. The actors are good, but the dialogue and story are stupid and pointless. I hated this movie.
It's a slightly more sexed up and extreme version of the John Hughes formula, but in a good way. Anthony Michael Hall plays a great jock after being stereotyped as a shy nerd in most roles. RDJ also throws in a knockout as his kooky best friend. I liked the story because it had a real life feel to it and there were real consequences to everyone's actions. When it does get over the top, it's absolutely hilarious and a purely 80s experience.
Conner Rainwater
Super Reviewer
Johnny Be Good Quotes
There are no approved quotes yet for this movie.