Joe Strummer: The Future Is Unwritten
(2007)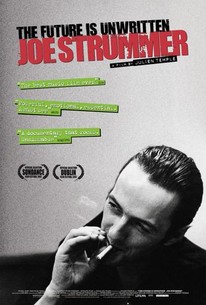 TOMATOMETER
AUDIENCE SCORE
Critic Consensus: Displaying Joe Strummer warts and all, The Future is Unwritten succeeds as both an engrossing documentary and a comprehensive examination of one of music's most legendary figures.
Joe Strummer: The Future Is Unwritten Photos
Movie Info
Filmmaker Julien Temple takes a look beyond the guise of the late, anti-establishment icon Joe Strummer to offer a warm portrait of the self-described "mouthy little git" who was born John Mellor and was destined to become the frontman for one of the most influential punk bands ever. A complex figure who would learn to use his gift for music as a means of decompressing his conscience, Strummer is revealed here through unearthed interviews and the illuminating recollections of his closest companions. At times idealistic to a fault, the flawed Clash singer/songwriter had a special gift for compelling listeners to think as they moved to the music. Vintage performance footage and excerpts from Strummer's popular BBC radio program offer the ideal musical backdrop for an affectionate tribute to a punk-rock legend. ~ Jason Buchanan, Rovi
News & Interviews for Joe Strummer: The Future Is Unwritten
Critic Reviews for Joe Strummer: The Future Is Unwritten
Audience Reviews for Joe Strummer: The Future Is Unwritten
For as much as I love Joe Strummer, for as much as I love The Clash and for as informative as I found Joe Strummer: The Future is Unwritten, this documentary was a pretentious pile of shit about a seemingly unpretentious man. The archive and interviews with Strummer and people who worked with and I don't know, actually KNEW Strummer (like Mick Jones, Topper Headon, Jim Jarmusch, Steve Buscemi, etc) were cool, BUT... who's idea was the hobo camp-style interviews? There's a city behind them so I'm guessing they're not camping. And while we're on the subject of the interviews, why should I give a fuck what Johnny Depp has to say about The Clash? Or The Red Hot Chili Peppers or Bono? Oh, you saw The Clash once? Great, fuck off. And how about Matt Dillon and John Cusack? You hung out with Strummer once? AWESOME, now fuck off! At the same time its essential viewing for even the most fair-weather of Clash fans. There's just a lot of bullshit to wade through...
Michael Gildea
Super Reviewer
½
Unflinching documentary of one of the most important figures in the history of popular music. I found it a little hard to watch for a borderline obsessive Clash fan like myself, as the focus was not just on the magic in a bottle that the band found, but rather on Joe, front to back... meaning that there was a lot more to learn about his departure from the 101ers, his attempt to keep the Clash going with Mick and Topper gone, and his time in the wilderness before finally starting to make music again with the Mescaleros. And, despite the tinge of iconoclasm, Joe still comes out looking great. The mythology is debunked, and the man is raised up, with the result being an exciting portrait whose true beauty is in its style: Julien Temple is a great documentarian, and he lets this story out in just the right way. A winner.
Daniel Perry
Super Reviewer
½
The only fault I can find with The Future Is Unwritten is that some of Julien Temple's celebrity interviewees are not particularly insightful, seemingly having been selected purely with a view to marketing his film. However, Temple does an impeccable job of finding a cinematic style to match the urgency of Strummer's music, weaving a dazzling collage -- of stock footage, home movies, film and television excerpts, animations and live performances -- around some excellent interview material. I think those people who bleat about the lack of identifying titles for the talking heads are missing the essential point: to single those people out would be to elevate them above the common (wo)man, which would be the very antithesis of everything Joe Strummer stood for. Temple's decision is absolutely right; in this film, the rich and famous, spurned bandmates, ex-girlfriends and family are communally anonymous! (Many thanks to s.d. for ushering me to my seat!)
Joe Strummer: The Future Is Unwritten Quotes
There are no approved quotes yet for this movie.