Desert Flower
(2011)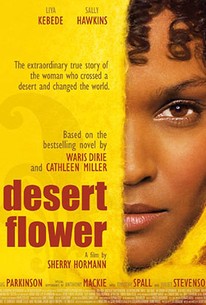 Movie Info
A woman who achieves stardom against all odds uses her celebrity to make a difference in the land she left behind in this drama based on a true story. Waris Dirie (Liya Kebede) was born in Somalia, where she was one of a dozen children raised by a family of travelers. Waris grew up poor, and at the age of five, like many girls in East Africa, she was the victim of genital mutilation, a practice performed by Muslims in the belief it will insure that the girls will remain "true virgins." At 13, Waris' family sold her to an elderly man, but rather than live under his tyranny, she ran away and eventually settled in London. After a series of odd jobs, Waris was attending school and working at a hamburger stand in her spare time when she was spotted by Terry Donaldson (Timothy Spall), a professional photographer. Terry was convinced that Waris had the looks and poise to be a model, and with the help of Lucinda (Juliet Stevenson), an agent, Waris begins making a name for herself in fashion modeling. But as she becomes an international success in the glamorous world of high fashion, Waris can't escape the cruel irony that while she's known for her sex appeal, the mutilation from her youth prevents her from fully enjoying lovemaking, and she uses her rising fame to speak out against the barbaric practice still forced upon many young girls in the Third World. Desert Flower was an official selection at the 2009 Venice International Film Festival, where it was screened as part of the "Venice Days" program.
News & Interviews for Desert Flower
Critic Reviews for Desert Flower
Audience Reviews for Desert Flower
Desert Flower is a great biopic film that aims for a specific message, and delivers that message powerfully and to great effect. The tale it seeks to lay out works on a number of levels. From a rags to riches story, it succeeds, with very moving and well integrated flashbacks, contrasted with a much different, though still quite flawed, modern day London. Where the film really makes an impact, however, is with the horrendous, but all to believable, subject of female genital mutilation. This is handled with grace, the film doesn't hit you over the head with how terrible it is, but instead chooses to go the more subtle route, not showing its hand until we care enough about the character and her journey to really feel impacted. Though the film does occasionally stumble on tone, the script is largely well done, and so is the direction and composition, one that straddles the line between the different themes fairly well. It's also acted impressively, with Liya Kebede delivering a strong performance. Though the ending may come across as a bit conventional and too direct, the film never loses its heart, and conveys what it seeks to in an effective manner, making it a strong and memorable drama. 4/5 Stars
Jeffrey Meyers
Super Reviewer
Very terrible subject. Well done little movie. I remember this subject being in the headlines many years ago...now I know why. I sure hope that this horrifying practice in other countries of circumcising women is done with. Good lord what a world!!
Cynthia S.
Super Reviewer
½
"Desert Flower" starts with Waris(Liya Kebede) walking out of a doorway into pedestrian traffic in London in traditional dress. Homeless, she has little choice but to sleep on the streets and dig in the garbage for any scraps of food she can find. That's not to mention her attempt at shoplifting going badly awry, alerting an employee, Marylin(Sally Hawkins). However, Marylin takes pity on the woman from Somalia, putting her up in her room, giving her a lead on a job at a burger bar and even donating her down jacket to the cause. While at the fast food restaurant, it is not Waris' mopping abilities that catch the attention of Donaldson(Timothy Spall) but her cheekbones, since he is a photographer and gives her his card. As a form of celebrating, the women go dancing where Waris meets Harry(Anthony Mackie) from New York. Later that night, the friends make disturbing discoveries about each other. Even with a couple of subplots that go nowhere, "Desert Flower" is a compelling movie that puts a spotlight on the very serious problem of female genital mutilation in the developing world. Amongst other things, Winston Churchill was wrong when he said history is written by the victors. It is written by the survivors, Waris being a prime example, after her ordeal and journey from Somalia. And throughout the movie Waris gets increasingly more comfortable with herself and less ashamed of her body. Unlike her friend Marylin, grace and talent come naturally to Waris, inferring that she was meant to become famous enough to take control of her own narrative to tell her story to millions while Donaldson takes little advantage of any fame as a photographer. All of which got me thinking of a conversation I had with a friend after Elizabeth Taylor's death this week. She mentioned that Taylor through her celebrity had brought in more money for AIDS research than her films did.
Desert Flower Quotes
There are no approved quotes yet for this movie.