Jingle All the Way
(1997)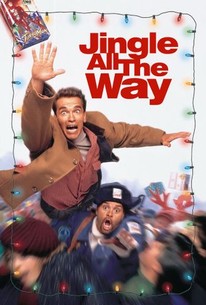 TOMATOMETER
AUDIENCE SCORE
Critic Consensus: Arnold Schwarzenegger tries his best, but Jingle All the Way suffers from an uneven tone, shifting wildly from a would-be satire on materialism to an antic, slapstick yuk-fest.
Jingle All the Way Videos
Jingle All the Way Photos
Movie Info
The true meaning of Christmas -- desperate last-minute shopping -- is the subject of this holiday-themed comedy. Howard Langston (Arnold Schwarzenegger) is a mattress salesman with a bad habit of putting his work ahead of his family. His son Jamie (Jake Lloyd), who wishes Dad would pay more attention to him, wants only one thing for Christmas -- a Turbo Man action figure, with all the accessories. Howard promises both Jamie and his wife Liz (Rita Wilson) that there will indeed be a Turbo Man under the tree for Jamie on Christmas morning, but come December 24, Howard realizes that he hasn't actually bought the toy yet. Seemingly it would be no great problem to head on down to the toy store and pick one up, but it just so happens that Turbo Man has been the hottest ticket of the holiday season, and literally thousands of parents are scrambling for the last few action figures. Howard then spends a hilariously hellish Christmas Eve madly scrambling from store to store in desperate search of a Turbo Man; in the course of his adventures, Howard keeps crossing paths Myron Larabee (Sinbad), a postal worker who wants a Turbo Man even more desperately than Howard. And on the home front, Howard has to worry about Ted Maltin (Phil Hartman), an annoyingly perfect suburbanite obsessed with Christmas who has eyes for Liz. This was the second film for child actor Jake Lloyd, who three years later would gain international attention when he was cast as the young Anakin Skywalker in Star Wars: Episode I - The Phantom Menace. ~ Mark Deming, Rovi
News & Interviews for Jingle All the Way
Critic Reviews for Jingle All the Way
Audience Reviews for Jingle All the Way
A film all about buying your child's love? hmmm. Well its not all as bad as it sounds, the film does manage to turn that on its head by the end, just about, close call though. Yep so Arnie is a bad dad who only thinks about his work and misses his whiny kids karate class awards ceremony stuff. So to make it up to his little brat he offers him the choice of anything he wants for Xmas, bad idea. The little darling wants a Turbo-Man action figure which is massively popular with kids. So Arnie must now find this toy which would have been easy if he hadn't forgotten about it and was left with only Xmas Eve to find one. So the hectic day begins as Arnie strives to find a Turbo-Man figure. The plot is simply but pretty effective methinks, right away you know there is gonna be lots of mayhem and madness as parents scramble to get hold of this elusive toy. Even without seeing a trailer you can tell there is potential for some classic Chevy Chase-esque holiday hijinx. The fact its the Austrian oak adds to the fun because you can take advantage of his size by making him Hulk out in amusing places. I like the toy design in this film, they really managed to capture the type of toy and its universe perfectly. A kind of Mighty Morphin Power Rangers scenario with a 'Buzz Lightyear' looking hero. His adversaries were very much a visual blend of the MMPR's bad guys with that Japanese flavour and a hint of Marvel with Turbo-Man's arch-nemesis. The TV show we see in the film is a typical MMPR approach, virtually a parody of it, or homage. Apart from the loony pratfalls and childish visuals the film works because people can relate to it. I'm sure many parents know the horror of Xmas shopping for their kids and trying to get a hold of a particular toy. Hell even if you don't have kids you can relate to the nightmare of Xmas shopping and trying to get a hold of anything specific. So its fun to see Arnie as a regular everyday man trying to achieve something which would seem relatively simple. We can all sit back and watch someone else go through the hell we all know too well, much like travel ('Planes Trains and Automobiles'). I think the best scene in the film for me is the warehouse full of seedy Santa's and mischievous little helpers which are led by an unsavoury Santa in the form of Jim Belushi. The whole underground Santa's grotto idea is really good and quite funny when you think about it. Belushi really really fits this role like a glove and the fight that ensues is brilliant, only for seeing Arnie beat up a bunch of Santa's. The whole idea of a bad, grouchy, sleazy, disreputable Santa that is mean or rude to kids is just funny, the fact there is an entire organisation of them churning out duff toys is hilarious. This is definitely one of Arnie's better comedies for me as it has a nice slightly dark side for adults as well as the soft marshmallowy side for kids. Adults have Sinbad vs Arnie, Sinbad threatening to blow up things because he's a disgruntled postal worker, seedy Santa's, a brilliantly slimy Hartman and the whole angry parents trying to kill each other at the shops thing. The kids of course have the actual toys in the film, silly pratfalls, Xmas and a nice mushy happy ending where Arnie proves himself to be a great dad after all. In the end its very enjoyable and Arnie proves he can still do comedy films almost as well as action...after his previous attempt with 'Junior'. The film holds up well today too, the Xmas setting will always work at the right time, effects towards the end are a bit crappy, bit too silly, but in general its quite a good holiday romp. The very final scene with the two happy parents leads to a neat and amusing little twist.
Phil Hubbs
Super Reviewer
Some movies are review proof. Jingle All the Way is one such movie. Of course it's bad. The effects are horrid and the story is so completely ludicrous that you can't help but shake your head and laugh. And laugh you shall! I'm an avid Arnold fan, and Jingle All the Way is my annual Christmas movie. Every year, my brother and my cousins sit around the TV with some nice warm hot chocolate and laugh our asses off as we watch Arnold pummels his way through a pack of evil Santas, a reindeer, Sinbad, and a parade to ultimately make his son happy. There is a certain charm to this movie. It may be in the sheer nonsensical slapstick humour, or in the way that it pokes fun at how people confuse mass consumerism with Christmas spirit, but there is an evident good nature to the jokes. I doubt the filmmakers wanted to do anything more than entertain and get people in the mood for Christmas. No movie does this better for me than Arnold's holiday family "classic," Jingle All the Way! It fails spectacularly as a satire and a legitimate feel good Holiday movie, but I don't think I would like it so much if it wasn't as bad as it is. On a serious note, this was one of the last films to feature Phil Hartman, and his performance here as a sleezy divorcée is a true testament to his comic genius!
Edward Boxler
Super Reviewer
Stupid, but one of those movies you invariably end up watching on tv over Xmas. As Xmas movies go, this one is not too bad, even for an adult to watch. I think most can relate to shopping for family gifts at a hectic time of year, though obviously this one is highly exaggerated as Arnie goes looking for a Turbo Man doll for his son. Has left it to the last minute, and now the doll is sold out. Next follows series of crazy (predictable) events, plus crazy postal worker (the originality). It's not too awful. Colours are bright and colorful and it is festive, so some cheese excusable.
Nicki Marie
Super Reviewer
Jingle All the Way Quotes
There are no approved quotes yet for this movie.