Jezebel
(1938)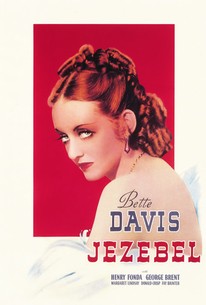 Movie Info
In 1938, Jezebel was widely regarded as Warner Bros.' "compensation" to Bette Davis for her losing the opportunity to play Scarlett O'Hara in Gone With the Wind. Resemblances between the two properties are inescapable: Jezebel heroine Julie Marsden (Davis) is a headstrong Southern belle not unlike Scarlett (Julie lives in New Orleans rather than Georgia); she loves fiancé Preston Dillard (played by Henry Fonda) but loses him when she makes a public spectacle of herself (to provoke envy in him) by wearing an inappropriate red dress at a ball, just as Scarlett O'Hara brazenly danced with Rhett Butler while still garbed in widow's weeds. There are several other similarities between the works, but it is important to note that Jezebel is set in the 1850s, several years before Gone With the Wind's Civil War milieu; and we must observe that, unlike Scarlett O'Hara, Julie Marsden is humbled by her experiences and ends up giving of her time, energy, and health during a deadly yellow jack outbreak. Bette Davis won an Academy Award for her portrayal of Julie; an additional Oscar went to Fay Bainter for her portrayal of the remonstrative Aunt Belle (she's the one who labels Julie a "jezebel" at a crucial plot point). The offscreen intrigues of Jezebel, including Bette Davis' romantic attachment to director William Wyler and co-star George Brent, have been fully documented elsewhere. Jezebel was based on an old and oft-produced play by Owen Davis Sr.
Critic Reviews for Jezebel
Audience Reviews for Jezebel
A minor melodrama that came as a consolation prize for Davis, who didn't get the main role in Gone with the Wind - and, just like in that film, the protagonist is a spoiled, impudent woman who likes to manipulate the men around her. The highlights include the elegant dialogue and Davis' fierce performance.
Carlos Magalhães
Super Reviewer
A Southern belle attempts to manipulate her societal standing and buck social norms. Half the film of its ilk, Gone with the Wind the best example, Jezebel is a classic Southern society drama that assumes as normative racism and misogyny. Julie Marsden (Bette Davis) attempts to pervert the typical Southern culture, but she is "put in her place" by happenstance and her male "betters." Her rebuke symbolizes the film's tacit acceptance that there is such a thing as a "woman's place," and though Davis's performance is enticing and often funny, there's nothing a great actress can do to recover a failed story. Most offensive is the film's portrayal of African-Americans. Elided are the whippings, yearnings for freedom, and the forced labor, and these depictions are replaced with numerous shots of "happy Negros," content with their lower caste and more than willing to serve their "better" white folk. They speak in affected accents, and conscious of the film's problematic portrayal, the modern closed caption writer translated the film's "Yessum" to "Yes, ma'am," a phrase no African-American character actually utters. Overall, despite strong performances by Henry Fonda and Davis, the film's offense and its plodding story cannot be forgiven.
Jim Hunter
Super Reviewer
Jezebel is the 1938 precursor to "Gone With The Wind". Bette Davis stars as a southern belle doomed to lose her fiance and her social standing when she dares to wear a red dress to a ball (GASP!@!) It's enough to make any southern belle a life-long pariah. When her former beau (the miscast Henry Fonda) comes back into her life, she tries everything she can to scheme her way back into his heart. The old pre-civil war south has long fascinated Hollywood as it's the closest thing America ever had to a royal "noble class" (the elite upper crust of society). Everything was a question of manners and the wrong word could result in a duel between two gentlemen. Of course the slavery issue is given short shrift, this was made in the pre-civil rights era 30s, and besides, slavery doesn't hold quite the same romance as the Jezebels and Scarletts of that time period. Regardless of political correctness, there's just something uninteresting about this film, whether it's the storyline or the script, I can't be sure. Bette Davis gives a fine performance, but this story of a woman who wears the wrong dress to the ball can hardly compare with the scope and granduer of the magnificent "Gone With The Wind".
Devon Bott
Super Reviewer
Jezebel Quotes
There are no approved quotes yet for this movie.