Jesus Henry Christ
(2012)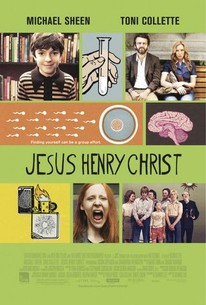 Jesus Henry Christ Photos
Movie Info
This colorful, modern family comedy revolves around 10-year-old boy genius Henry James Herman (Jason Spevack) and his fervently left-wing single mother Patricia (Toni Collette), who works at the local university's cafeteria. A misfit from birth, Henry's precocious, rabble-rousing ways catch up with him when he gets kicked out of school for writing "Manifestos on the Nature of Truth." Meanwhile, 12-year-old Audrey (Samantha Weinstein) has her own problems because of her single father, university professor Dr. Slavkin O'Hara (Michael Sheen), who used her as the test subject for his best-selling book Born Gay or Made that Way? Needless to say, she gets a not-so-nice nickname from her classmates. When Henry scores a scholarship to the university as a child prodigy, the two families cross paths and everything they knew about their lives is thrown to the wind. -- (C) Tribeca Film
News & Interviews for Jesus Henry Christ
Critic Reviews for Jesus Henry Christ
Audience Reviews for Jesus Henry Christ
If there was ever a film that was trying too hard, it would be "Jesus Henry Christ." It's this little indie darling that tries to examine the bonds of families and what makes up a family as well. It's pretty quirky which is its detriment. The beginning part of the film is probably the quirkiest with the most black comedy. It deals with his mother's (Colette) childhood, which is littered with members of her immediate family dying for different reasons, whether it be death by fire, accidental shooting, AIDS, or car wrecks, they're all in a long line. She's left with her father, who turns out to be a pretty unlikable and bland character. That's not an uncommon reaction to other characters as well. The film starts off thoughtful, looking into the psyche of Henry (Spevack), who turns out to be a child genius, and his mother, who is a left-wing working woman. Then it quickly devolves. There's a talking, one week old baby (completely implausible), the meeting of his biological father, Slavkin (Sheen), who meets his biological mother, and then Henry meets his sister, Audrey (Weinstein), who is beyond wicked. First she's a loner, what with her father writing a book about her, which is, by the way, a very cruel and unusual punishment. What the book actually contains is vague, and the impact of his work on his daughter really isn't evident, even in the telling last moments of the film. Weinstein has all the trappings of a sardonic teenaged muse, but she acts like an abused housewife a la Martha via George. The entire film gets very convoluted and vague half-way through, and instead of developing insight into familiar relations, it devolves into anarchy. Henry's intellect falls by the wayside, Slavkin comes off like an evil mastermind, and his mother loses all personality until she's basically forgotten. It started off so fresh and funny, and then it writes itself into a corner until we're left with nothing entertaining or insightful.
Spencer S.
Super Reviewer
½
In "Jesus Henry Christ," 10-year old Henry(Jason Spevack) may already remember everything that he has ever encountered and happened to him but still no idea who his father is. That lack of information is especially urgent considering apparently the only living family he has is his mother(Toni Collette) and his grandfather Stan(Frank Moore), a retired Chicago policeman. Henry's search leads to a sperm bank where Dr. Slavkin O'Hara(Michael Sheen), a university professor, made a deposit more than a decade earlier. As a father, he currently has a less than favorable record as he has written a book outing his 12-year old daughter Audrey(Samantha Weinstein) as a lesbian, making her life a living hell. As far as it goes, "Jesus Henry Christ" is not half bad in its execution and threatens to have something interesting to say about science occasionally while recyclying the old cliche about not being able to choose one's family. Now, if only it had a plot. A subplot, yes, which is not the same thing, as the secondary tale of the O'Hara's threatens to overwhelm Henry's central story at times.
½
"I appreciate the fact that this film tried to be different and unique. I think it succeeded a bit. The story isn't as fresh, but it does deal with the situation in a different way which makes it unique. I enjoyed the quirky characters and I thought the actor's all did a great job. The kids outshined the adults in this film. The children were very talented and turned out solid performances. I was impressed with Jason Spevack. He will be one of the child stars to look out for. Although the film was short and enjoyable, I still found myself a bit bored at times. I think there needed to be more going on. Great cast and a decent story. But it's not something I would see again."
♥˩ƳИИ ƜѲѲƉƧ♥
Super Reviewer
Jesus Henry Christ Quotes
There are no approved quotes yet for this movie.