Jeremiah Johnson
(1972)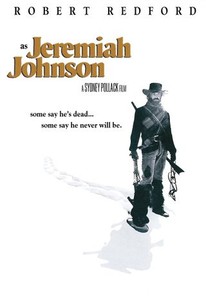 Movie Info
Years before Kevin Costner danced with wolves, Robert Redford headed to the mountains to escape civilization in Sydney Pollack's wilderness western. Around 1850, ex-soldier Johnson (Redford) decides that he would rather live alone as a mountain man in Colorado than deal with society's constraints. After a series of setbacks, he meets grizzled mountain veteran Bear Claws (Will Geer), who teaches him how to survive. Jeremiah strives to live as peaceably as possible in the rugged environment, trading with the native Crow tribe, adopting a boy (Josh Albee) after his family is massacred, and even marrying the daughter (Delle Bolton) of a Flathead chief in order to avoid confrontation. He settles into a mountain home with his family, but the U.S. cavalry, complete with a puritanical Reverend, interrupt the idyll to compel Jeremiah to lead them over the mountains and through a Crow burial ground to rescue white settlers. After the Crow kill his family in retaliation, Jeremiah's frenzied moment of payback precipitates a long-running vendetta, turning him into a legendary Indian killer at the expense of his original ideals, on the way to a final moment of grace. Spectacularly shot on location in Utah, the film captures both the appeal and the challenge of the landscape that Jeremiah chooses over civilization. With an unglamorous performance by Redford and a story that questioned white colonialism while mythologizing the man of nature, Jeremiah Johnson appealed to its 1972 audience and became one of the biggest hits of the year. Wavering between heroicizing Jeremiah for surviving and damning him for killing, Jeremiah Johnson took its place among the Vietnam-era cycle of critical westerns, like Arthur Penn's Little Big Man (1970) and Robert Altman's McCabe and Mrs. Miller (1971), that condemned civilization for corrupting the wilderness and preventing individuals from going pacifistically native. ~ Lucia Bozzola, Rovi
Critic Reviews for Jeremiah Johnson
Audience Reviews for Jeremiah Johnson
I don't understand. The ratings for this movie say that 90% of people like it, but the movie seemed to plod along too slowly for me.
½
Pollack and Redford's 1972 western is some kind of wonderful masterpiece. The bare bones plot involves a veteran of the Mexican War named Jeremiah Johnson who seeks to leave civilization behind and make a new life for himself as a mountain man. He struggles at first, but soon becomes a seasoned veteran who eventually comes to find his place in the world, even if it means enduring some great hardships and tough lessons along the way. This is definitely a film both of its time, and way ahead of it, especially with the portrayal of Native Americans being very balanced, fair, and differentiating between the many types of tribes and cultures. Dances With Wolves did this too, but this one came first...it just didn't quite get the same amount of acclaim and exposure. I loved how there's a lack of subtitles and how much of the film in general is told visually, forcing the viewer to focus on facial expressions and body language to pick up on what's going on. This is definitely a winning case of showing instead of telling. And it's also pretty funny too, with much of the comic relief coming from Will Geer and Stefan Gierasch, who, along with Redford and the rest of the cast all deliver some top notch work. Now that I think about it, there's really not a whole lot wrong with it. The cinematography and location shooting are excellent and things look great, the music is decent, and this is one of those films that was made at a time when you could still make them like this and not have to worry about too much tinkering and interference. Yeah, the film does become really formless and plot free at times, but I didn't mind that a whole lot since it really is more of a character study anyway. The film might not be for all tastes, but if you tend to enjoy revisionist westerns that are made with care, respect, and authenticity, then you'll find a lot to love here. Highly recommended. Solid A (to a near A+)
Chris Weber
Super Reviewer
A remnant of the late sixties culture that spawned the viewpoints here, here is western take on Robert Frost's road less traveled. More a character study than out and out shoot-'em-up, Pollack reasons that even if a man were to draw apart from the cares of civilization sooner or later that civilization - or another - would draw him out again. No man is an island. A decent piece of work.
Kevin M. Williams
Super Reviewer
Jeremiah Johnson Quotes
There are no approved quotes yet for this movie.