Jarhead 3: The Siege
(2016)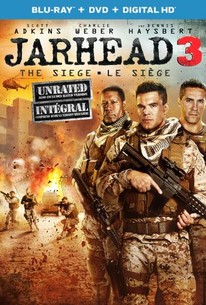 AUDIENCE SCORE
Critic Consensus: No consensus yet.
Jarhead 3: The Siege Photos
Movie Info
A Marine on his first assignment becomes enmeshed in a global crisis in Jarhead 3; The Siege, a gripping action adventure coming to Blu-ray(TM) combo pack, DVD and Digital HD on June 7, 2016, from Universal Pictures Home Entertainment. Inspired by the modern-day military classic, the film features original Jarhead star Dennis Haysbert ("24," Ted 2), as well as Charlie Weber ("How to Get Away with Murder," "90210") and Scott Adkins (The Bourne Ultimatum, The Expendables 2) in an all-new film from Universal 1440 Entertainment. The Blu-ray(TM) combo pack, DVD and Digital HD also feature an unrated version of the movie plus an exclusive inside look at the making of the film! Assigned to protect a seemingly safe U.S. Embassy in the Middle East, elite Marine Corporal Evan Albright (Charlie Weber) thought he wasn't going to see much action. But when a hostile and extreme military group launches a surprise attack aimed at killing an Embassy informant, Albright's team is caught off guard. Out-gunned and outnumbered, the Marine's routine assignment escalates into an all-out war. With national security at stake, an international crisis ensues in this riveting film directed by William Kaufman (The Hit List) starring Dennis Haysbert and Scott Adkins. Jarhead 3: The Siege also stars Tom Ainsley ("The Royals"), Erik Valdez ("Graceland"), Sasha Jackson (Journey to the Forbidden Valley), Romeo Miller (Madea's Witness Protection), Joe Corrigall (Kilo Two Bravo), Hadrian Howard ("Sons of Anarchy"), Charlie de Melo ("The Interceptor") and Dante Basco ("Avatar: The Last Airbender").
Critic Reviews for Jarhead 3: The Siege
Audience Reviews for Jarhead 3: The Siege
It was a typical "Jarhead" movie... It's a bunch of marines fighting bad guys. It's not a bad movie but it's not "The Longest Day" either. The movie takes place in a US Embassy in the Middle East. The lead character has just been assigned to the guard detail at the Embassy. After a slow start, with the lead character being introduced to everyone else at the Embassy, "Jarhead 3" finally starts to get interesting when the lead character's suspicions that the Embassy is going to be attacked are confirmed. The rest of the movie is action packed with plenty of gun firing and some hand to hand combat. In the end, the marines prevail and good defeats evil. The lead actor (Scott Adkins) did a good job portraying a gung-ho marine. He leads his fellow Embassy marines against the terrorist attack on the Embassy. The rest of the cast members were OK at best as supporting actors/actresses in this movie and none of them stood out aside from the lead actor. "Jarhead 3" tries to make a political statement that not all Middle Easterners are terrorists - in fact, many Middle Easterners want to help Americans or become more Americanized. Unfortunately, I watched this movie following the June Orlando night club massacre attack by an ISIS follower so I found myself as a patriotic American not wanting to believe in friendly Middle Easterners. This sentiment, I believe, is felt by many Americans. There was plenty of action to keep me interested so this gets a good rating.
Jim Pasier
Super Reviewer
Jarhead 3: The Siege Quotes
There are no approved quotes yet for this movie.