Jalsaghar (The Music Room)
(1958)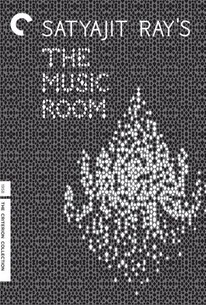 Jalsaghar (The Music Room) Photos
Movie Info
Released shortly before his Apu trilogy, this is felt to be one of Satyaijt Ray's finest productions. Based on a novel by Tarashankar Banerjee, it is the story of the decline of the aristocracy--watching as a wealthy man slowly loses his wealth, his position, his family and his sanity while he watches life go on status quo for all of his friends and neighbors.
Critic Reviews for Jalsaghar (The Music Room)
Audience Reviews for Jalsaghar (The Music Room)
½
A look at the end of an era and of one man's fading away from this world and all that he knew and loved. What a universal and real, albeit super sad and depressing, film that captures time gone by. It's a intimate look at a man named Huzur Biswambhar Roy as he has survived through the years (Both his wife and son have died) and with each passing one, he is left behind from the consistently evolving modern world around him. He decides that he will throw one last grand event in order to relive the more happy past. This is my first film review of a Satajit Ray film and a nice and beautiful introduction to the profound Director's works, most of which I will one day view! Jalsaghar (The Music Room) gives a beautiful perspective of a culture gone by and the traditions involved. Recommended!
Chris Browning
Super Reviewer
½
Ray exhibits a complete and enviable control of his camera behind this sumptuous drama that deserves credit even more for its elegant, classic direction and noteworthy formal rigor than for an impeccable narrative about a proud, stubborn man who refuses to become obsolete.
Carlos Magalhães
Super Reviewer
a raja in his crumbling palace cares for nothing but music as the world moves on without him. a very touching portrait of a man who loses everything, the most beautiful of ray's films i have yet seen, and his first criterion edition! it helps if u like indian music :)
Stella Dallas
Super Reviewer
Jalsaghar (The Music Room) Quotes
There are no approved quotes yet for this movie.