Jailbreak
(2017)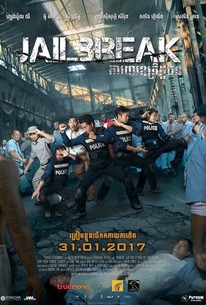 Movie Info
ambodia's traditional martial art of bokator is unleashed in all its bone crunching fury in this action-packed tale of police trapped in the midst of a raging prison riot.
Critic Reviews for Jailbreak
Audience Reviews for Jailbreak
½
So, we need to talk about this movie. I literally just finished watching this less than 30 minutes ago and I don't know if I've got a lot to say or not. I almost hate starting out like this, but I think we need to talk about the elephant in the room. And that is The Raid (both of them). To say that both movies are some of the most influential action movies in recent memory would be an understatement. There's a reason why Iko Uwais and Yayan Ruhian are in such high demand from Hollywood directors. And that's because of their amazing skills as martial artists that were showcased in Merentau and both Raid movies. It should be noted that both Raid movies are in my top 5 favorite action movies of all time, along with The Road Warrior and Fury Road from the Mad Max franchise. Four of my favorite five actions movies are from two franchises, so that should tell you something of their quality. Regardless, that's neither here nor there, the point that I'm trying to make is that, as a result of the major critical success of both Raid movies (with audiences and critics alike), it was bound to lead to movies that tried to replicate its success whether through its kinetic action sequences, smooth editing and just overall coolness. I'm not gonna say that this is a rip-off of the first Raid, but to say that it follows a relatively similar structure, fighting style and editing techniques would be a major understatement. If you don't think that this is the case, then you're just fooling yourself. I don't know where I properly start this review, however. Like, as far as what I thought about this movie. Honestly, I thought it was very disappointing. I'd still say that, as a whole, it was decent enough. But I would not feel comfortable saying that it was a good movie. If there was a complaint of the original Raid movie that most people seemed to point at, it was a lack of actual narrative. I mean, they had a mission to work their way up this high-rise building in order to capture this drug lord. But that was it, it was like a mission objective in a video game. The rest of the movie really is non-stop kinetic action that's beautifully (and brutally) choreographed and wonderfully edited together. There's a scene where it slows down and Iko Uwais' character and his brother have a conversation, but that's about it. This movie doesn't follow that approach. There's certainly a lot of actions, but they're far more spread out and there's more 'quiet' moments in between the big fight scenes. The thing is, however, that what happens between these big fight scenes isn't really that interesting. Essentially, this mob boss (a woman who runs a female gang called the Butterflies) wants this fellow gangster eliminated after he threatens to snitch on her. She pays this inmate to cause a riot in order to kill this man, called Playboy. Playboy, however, is being escorted by these four cops. The shit then hits the fan and everybody, at a certain point, ends up separated from one another. The mission, eventually, becomes working your way through the prison to, hopefully, find Playboy and the other cops to escape from this situation. It's not really that interesting and, quite frankly, it's really used as an excuse to justify all this action. I've got no problem with that but, at the same time, it's just not that interesting to me. I think the biggest problem the film has is that it's trying way too hard to be cool sometimes. Just the way certain characters act. For example, there's one scene, after everything for the mob boss goes tits up, that she (and her gang) decide to take matters into their own hands. They walk into the prison and it's almost like a rap video, with the way they shot it and the music they used. Just little shit like that pestered me more than it should have. She has three other women with her and they disappear and are never seen again until after everything is done. What the fuck were these women up to? And if they weren't gonna add anything to the battles inside the prison, why even bother bringing her? I think they try too hard with Bolo, sometimes, as well. As well as the Cannibal. It's like they felt the need to have these identifiable characters that people can point to as something they liked about the movie. Same with the mob boss and Playboy. Its character-building did not come naturally. Playboy himself is a bit of an enigma. Like he's meant to be a relatively comedic character, for the most part, but he feels at odds with the rest of the movie. The movie does attempt to have a more comedic side, in general, but it just doesn't work in my opinion. On top of that, Savin Phillip (Playboy) is a really bad actor. His reactions are unnatural and over-the-top (watch when Madam Butterfly, the mob boss, pushes him away near the end), his line delivery is poor and, just generally, he's not a very good actor. So I just didn't like him in the slightest and, realistically speaking, he is the MacGuffin, so he's the one driving the narrative forward. I don't know what else you do with the guy honestly, but I think that Playboy (and Savin's terrible performance) hurt the movie more than it helped. As far as the action is concerned, though, it's good, but it's not good enough. When I say it's not good enough, I mean that it isn't good enough to overcome the script's deficiencies. But, even with that, there's nothing about this movie's action that just blew me away. There is one scene, where Inspector Ly (the 'new' guy) fights inmates with a machete that is fairly brutal but, for one reason or another, it's the only one of its kind in the entire movie. It's like the movie wanted to be very violent and bloody for just one scene. I don't think the fight scenes themselves being more violent would have done much, the script is still lacking, but it would have added more brutality where, I felt, some was needed. I picked this because I thought it was gonna be good, but I believe that it failed to reach that level. There's obviously plenty more people that will like this more than me. But, in all honesty, all this made me do is pine for The Raid. And I've got both movies on DVD, so I may be watching them again sometime soon. Regardless, this isn't bad, but it isn't good either, so I wouldn't recommend it. There's other movies worthier of your time.
Jesse Ortega
Super Reviewer
Jailbreak Quotes
There are no approved quotes yet for this movie.