Jackie Chan's First Strike
(1996)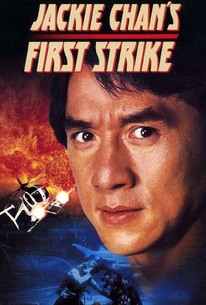 Jackie Chan's First Strike Photos
Movie Info
Ever wondered what a James Bond movie might be like if (a) Bond was from Hong Kong, (b) he was too busy to chase women or drink martinis, and (c) he spent a lot more time kicking people? Well, Jackie Chan gives us an idea of what the results might be as he plays a superspy in this funny and fast-moving action saga. Jackie (Jackie Chan) is a top cop from Hong Kong whose services are enlisted by the American CIA to follow a woman named Natasha (Grishajeva Nonna) who is travelling to the Ukraine. Natasha is smuggling U.S. currency into the former Soviet Union -- enough of it that a terrorist named Tsui (Jackson Lou) has been able to purchase a nuclear warhead from the Russian Mafia on the black market. Joining forces with Russian intelligence, Jackie and Ukrainian agent Gregor (Yuri Petrov) follow Tsui's trail to Australia, where Annie (Chen Chun Wu), the terrorist's sister, works at an oceanic theme park and uses deadly sea creatures to protect the illegally-obtained warhead. As usual, narrative takes a back seat to Chan's peerless action sequences and stunt work, including a chase of snowboards, a battle with sharks, and a memorable fight in which Chan proves that a ladder can be a splendid strategic weapon. As with many of Chan's films, Police Story 4: First Strike has been released under a multitude of titles in different territories, including Jackie Chan's First Strike, Police Story 4: Piece of Cake, and Police Story 4: Story of the CIA. ~ Mark Deming, Rovi
Critic Reviews for Jackie Chan's First Strike
Audience Reviews for Jackie Chan's First Strike
Badly dubbed, but very typically Jackie Chan in every other way, humour, creative fight sequences, watchable, but not one of his best.
Lady D'arbanville
Super Reviewer
even less substance than your normal action flick, but hey, its jackie chan. the action was excellent and the short running time makes this a very worth while viewing when youre just in the mood to see some kung fu.
½
After being a little disappointed with Rumble in the Bronx, First Strike was a great comeback from everyone's favourite martial artist/wannabe comic. As ever, it was the action and the jokes which moved the show along, and it delivered plenty - the huge fight scene in the aquarium and the ladder fight highlighting Jackie's infinite brilliance (and infinite pain tolerance, in the latter case - see the outtakes). And as for those koala underpants...well, some things you just need to see. A much better installment in the Jackie Chan legacy - not to mention that it was filmed Down Under, which as we all know is the greatest place on Earth :)
Cassandra Maples
Super Reviewer
Jackie Chan's First Strike Quotes
There are no approved quotes yet for this movie.