Jack and Diane
(2012)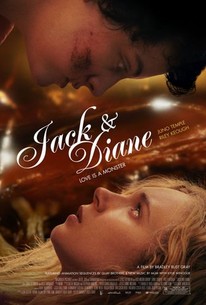 Movie Info
Jack and Diane, two teenage girls, meet in New York City and spend the night kissing ferociously. Diane's charming innocence quickly begins to open Jack's tough skinned heart. But when Jack discovers that Diane is moving she pushes her away. Unable to grasp her new feelings, Diane's emotions begin to cause unexplainable violent changes to her body. Through these awkward and insecure feelings, the two girls must struggle to turn their first love into an enduring one. -- (C) Magnolia
News & Interviews for Jack and Diane
Critic Reviews for Jack and Diane
Audience Reviews for Jack and Diane
I watched this as I've liked a lot of Juno Temple's movies. This is pretty much a lesbian romance, which would be fine if they had left the stupid monster stuff out. It's probably meant to be a metaphor for struggling with sexuality, but honestly I would have preferred it if they just dealt with that issue. What's left is a very average film which drags and makes no sense. It's a shame, it could have been decent.
Nicki Marie
Super Reviewer
There just aren't enough lesbian werewolf films, but Jack & Diane is here to fill that niche. The story is paper-thin and involves a friendship between two teenage girls that are werewolves? The werewolf aspect is so poorly integrated that it's hard to tell whether they're both wolves, whether one turned the other into a wolf, or if it's just a visual manifestation. But beyond that, the acting is poor and there's no point to anything in the film. Monotonous tripe, Jack & Diane is convoluted and inexplicable.
Dann Michalski
Super Reviewer
Diane(Juno Temple) loses her cell phone and therefore has no idea her sister is not coming to visit her from Washington, DC until it is too late. By that point, she is feeling nauseous and having nose bleeds. Seeking shelter in a night club, she runs into Jack(Riley Keough) who takes her home with her. When Diane finally gets home the following morning, her aunt Linda(Cara Seymour) is so sick with worry that she is prepared to ground her until she is old enough to collect social security. Desperately wanting to put its own fresh spin on the teenage lesbian coming of age movie, "Jack and Diane" goes the extra mile unnecessarily in throwing random plot elements at the wall to see what sticks which is pretty much nothing, except in the department of bodily functions. The more the movie tries to be dark and edgy, the more it becomes harder to tell exactly what is going on. Characters coming and going as they please does not help in the least. In any case, we've known for a while that Juno Temple is game for anything while Kylie Minogue just seems intent on putting together the most eccentric filmography ever.
Jack and Diane Quotes
There are no approved quotes yet for this movie.