It's the Rage
(2000)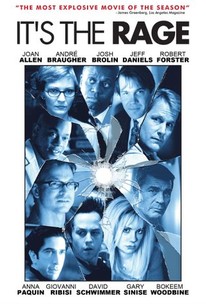 Movie Info
A disparate group of strangers find themselves crossing paths and exchanging gunfire in this satiric comedy. Helen (Joan Allen) is awakened by gunfire in the middle of the night, and she discovers that her husband Warren (Jeff Daniels) has shot a man in their living room. The victim turns out to be Warren's partner. Warren claims he appeared in the house unannounced, and he fired before he could identify him. Helen doesn't entirely believe this story, especially given Warren's increasing paranoia and oft-stated belief that she's been unfaithful to him. It doesn't play any better with Tyler (Robert Forster) and Agee (Bokeem Woodbine), the police detectives investigating the killing. Helen leaves Warren and takes a job assisting an eccentric and hygienically challenged multi-millionaire, Mr. Morgan (Gary Sinise), causing Morgan to fire his previous assistant Tennell (Josh Brolin). Tennell seizes on this as an opportunity to pursue his dream of a career in the film industry, only to end up working at a video store. Tennell develops a crush on Annabelle Lee (Anna Paquin), a teenage girl who likes to shoplift. Annabelle's older brother (Giovanni Ribisi) is a disturbed drug addict with a fondness for firearms. Tennell discovers that he has a rival for Annabelle's affection in Tim (Andre Braugher), a lawyer who recently represented Warren in court (and helped him dodge a prison sentence); this, however, is very bad news for Chris (David Schwimmer), Tim's gay lover, who has just purchased a suitably romantic gift for them to share -- a pair of matching revolvers. Also shown as All the Rage, this film was the feature debut for director James D. Stern, and received its world premier at the 1999 Toronto Film Festival.
Critic Reviews for It's the Rage
Audience Reviews for It's the Rage
½
its not a great movie but i couldnt help but actually like it i loved gary sinise character as he seemed really sweet and cute but if you havent got anything to watch then thats the time to watch this movie i wouldnt go out of my way to watch this movie but it is wathcable
Film Crazy
Super Reviewer
½
A bizarrely plotted but relevant portrait of different entities filled with rage and whose lives interconnect. It's The Rage is definitely worth seeing yet it might not suit everyone.
Laurence Collin
Super Reviewer
It's the Rage Quotes
There are no approved quotes yet for this movie.