It's Kind of a Funny Story
(2010)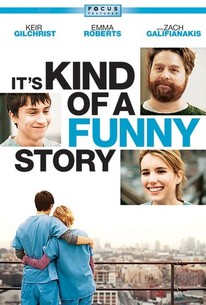 TOMATOMETER
AUDIENCE SCORE
Critic Consensus: It's amiable, and it does a surprisingly good job of sidestepping psych ward comedy cliches, but given its talented cast and directors, It's Kind of a Funny Story should be more than just mildly entertaining.
It's Kind of a Funny Story Photos
Movie Info
It's 5 a.m. on a Sunday in Brooklyn. Craig Gilner is bicycling up to the entrance of a mental health clinic. This bright 16-year-old is stressed out from the demands of being a teenager. Before his parents and younger sister are even awake, Craig checks himself into Argenon Hospital. But the youth ward is temporarily closed -- so he finds himself stuck in the adult ward. One of the patients, Bobby, soon becomes both Craig's mentor and protégé. Craig is also quickly drawn to another 16-year-old displaced to the adult ward, the sensitive Noelle, who just might make him forget his longtime unrequited crush, Nia. During his five days' stay, Craig learns more about life, love, and the pressures of growing up.
News & Interviews for It's Kind of a Funny Story
Critic Reviews for It's Kind of a Funny Story
Audience Reviews for It's Kind of a Funny Story
½
I'm a sucker for the teenage angst type of movie, and this is a version of that genre. It would be lovely if everyone could find out so much about their lives in just 4 or 5 days as is depicted in this movie.
½
When I first saw the traielr for this, I feared it was going to be some big rip off of One Flew Over the Cuckoo's Nest, and, while there are traces of that, the film thankfully is not that, and is its own little thing. That, and since Fleck and Boden were behind it, I got the feeling that this seemed like the sort of film they'd make anyway. While the film is a little underwhelming and feels a bit too precious or indie, or trite and a little too neat and tidy (which is actually addressed in the film), I liked it. I wanted more, but this didn't leave me unsatisfied, either. The writing was a little weak, and Craig didn't really seem like he needed to be at the hospital, but I found myself able to relate to him and some of the other characters...maybe more than I'm comfortable with, actually. Where this film really shines is with the acting. As others have said, Galifianakis knocks it out of the park, showing that he really does have some legit and serious acting chops. He gives a really nuanced performance that seems like we knew he had it in him, but just needed to see it to be sure. I look forward to seeing him do more stuff like this. The rest of the cast is good too. Lots of known names and faces, but not in a gimmicky stunt casting sort of way. Galifianakis owns this one, but Emma Roberts is also really quite good, and also achieves the right balance given the type of character she's playing. Keir Gilchrist is not bad as Craig, but I think could have been just slightly better. While this film didn't grab me like I thought it would, it's decent enough, and should be pleasing in some way for just about anyone who sees it.
Chris Weber
Super Reviewer
I don't wanna be a dick and say teenagers don't have real problems, or even that the teenager in THIS movie has no real problems, BUT the teenager in this movie certainly has issues articulating his problems, so I am left with the impression that this movie just wanted to create a young romance in an unconventional location but neglected to set up the proper groundwork for mental illness or distraction.
Alice Shen
Super Reviewer
It's Kind of a Funny Story Quotes
There are no approved quotes yet for this movie.