It Runs in the Family
(2003)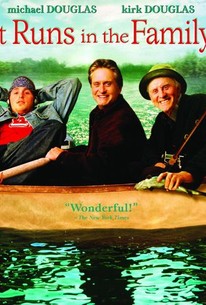 It Runs in the Family Photos
Movie Info
A family takes on the difficult task of learning how to get along with one another in this emotional comedy drama. Alex Gromberg (Michael Douglas) is a middle-aged man who feels caught in the middle of his familial obligations as he muddles he way through a midlife crisis. While a successful businessman, Alex sometimes still feels as if he's under the shadow of his father, Mitchell Gromberg (Kirk Douglas), a successful attorney whose skills in the courtroom outstripped his gifts as a parent. Elderly Mitchell has recently survived a stroke, and Alex and Mitchell want to mend their relationship while there's still time, but making it so proves difficult, even with Alex getting advice from his wife, psychologist Rebecca (Bernadette Peters), and Mitchell being prodded by his long-suffering wife, Evelyn (Diana Douglas). Alex is also trying to reach out to his two sons, who are as different as night and day; college student Asher (Cameron Douglas) is an aspiring club DJ who seems to be styling himself to bear no resemblance to his father, while 11-year-old Eli (Rory Culkin) is an overly serious lad who is having trouble navigating the first steps of adolescence. It Runs in the Family marked the first time Kirk Douglas acted in a film with his son Michael Douglas; adding to the family atmosphere was Michael's son Cameron Douglas, working with his family for the first time, and Diana Douglas, Kirk's former wife and Michael's mother.
Critic Reviews for It Runs in the Family
Audience Reviews for It Runs in the Family
½
A scattershot mess whose only interest is the casting of three generations of Douglases in the main roles.
Cast: Kirk Douglas, Michael Douglas, Bernadette Peters, Rory Culkin, Cameron Douglas, Diana Darrid Douglas, Michelle Monaghan, Geoffrey Arend, Sarita Choudhury, Irene Gorovaia, Audra McDonald, Annie Golden, Josh Pais Director: Fred Schepisi Summary: The Gromberg family is one of the most powerful families in New York City -- but hidden beneath a veneer of perfection is a wealth of dysfunction. Three generations of Douglas thespians star in this touching drama about the ties that bind. My Thoughts: "Although it was nice to see three generations on the screen thogether, the film wasn't that great. It had some funny moments here and there but not the comedy I thought it was going to be. It was more of a drama. A lot of father and son issues going on in this film that I am sure some will be able to relate to. The acting was good and it's unfortunate Cameron Douglas is in the position he is cause I think he could have easily followed in his grandfather and father's footsteps in the film industry. I thought he did good in the movie. I liked his character, he was fun. Perhaps the film is more fact then fiction. Either way it wasn't great but I enjoyed it."
♥˩ƳИИ ƜѲѲƉƧ♥
Super Reviewer
Not really very original and pretty dull in parts.
Sunil Jawahir
Super Reviewer
It Runs in the Family Quotes
There are no approved quotes yet for this movie.