Island Zero
(2017)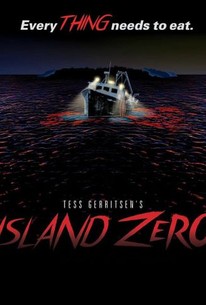 AUDIENCE SCORE
Critic Consensus: No consensus yet.
Movie Info
When a ferry mysteriously fails to arrive, a fishing island community of the coast of Maine finds itself in a growing state of panic. As the phone lines go out, and inhabitants start turning up dead, survivors band together to find and stop the elusive killer.
Critic Reviews for Island Zero
All Critics (3) | Fresh (2) | Rotten (1)
Island Zero is almost kept afloat by an enticing storyline and strong performances, but ultimately sinks once the creature design and endgame are revealed.
Simple, effective, low-budget horror... from the creator of Rizzoli & Isles?
Punching well above its weight, this is a film unashamed of its own smallness and willing to take risks in service of the story.
Audience Reviews for Island Zero
So, as some of you may already know, the island where I'm from suffered its worst hurricane in forever last year. It was a category five hurricane that left most of the island without electricity for months. Personally, me and my family were without it for five months. The first few couple of days in the aftermath of such a catastrophic and disastrous hurricane were very rough in terms of the fact that supermarkets were, practically, if you were on the outside looking in, deserted with their lack of stock. There was also no gasoline for, say, the first two weeks or so after it. I remember, after a nearby gas station started getting gasoline, the lines of cars ran incredibly long. Several blocks of cars, just to get some gas. At the same time, however, in my neighborhood at least and, I'm certain, other neighborhoods as well, in a lot of ways, this situation forced us to get closer to one another. And perhaps forced is the wrong word to use, since it's not like it was against our will, but it made us gravitate towards and rely on each other more than ever before. While the hurricane did bring a lot of negatives, the island was practically destroyed, it also did bring about some positives and that closeness with our neighbors is one of them. Though, to be fair, there's a few bad apples, mostly just the one that I'm thinking of at the moment, but that's neither here nor there. That's why, when I see films like this, that tell this story of this island, off the coast of Maine, that's cut off from the mainland (they get no more shipments of food, diesel, oil, etc, etc, etc) descends into selfishness, at least from one character, a week after the ferries stop coming. Maybe it's part of the exaggeration in terms of the story they're trying to tell that people are getting desperate, but that's never been that believable to me. Society doesn't descend into chaos when stuff like that happens. I know because I've lived it. Though, to be fair, our society and American society is far different. Not saying one is better than the other, it's just different. Regardless, as it relates to this movie, I don't know how to feel about it. One of the things that I did like about this movie, and this is outside of the selfishness on display by one character, and that is the sense that this is a really tight-knit community where everyone knows each other. The world these characters inhabit feel lived in, like it's been in existence since before you watched the movie, it's just that you came into this town in the middle of this situation. So I like that aspect of the movie, how close everyone seems to be. Perhaps they're not all friends, but they're still close regardless. I also liked the acting. Perhaps it's not outstanding or anything of the sort, but the work is quite solid from everyone all around. If it wasn't obvious to anyone who watched this movie's trailer, this is a low-budget affair. I wasn't really that enticed by the trailer, but I've always been open to films, so why not give this a shot? There's plenty of low-budget films that I've enjoyed thanks to their tone, atmosphere, humor (if it has it), writing and performances. So, in terms of look, it really might be one of the most overrated aspect of any movie. I mean, yes, it certainly helps if a film looks pretty and is technically proficient, but that's not the end-all, be-all for me. Beauty can only be skin deep. Look at the Transformers franchise. Nice movies to look at, but they're completely hollow on the inside. I do like the fact that this movie does do an interesting job at keeping its mystery somewhat intriguing and, realistically speaking, that's what the movie has to focus on because its CGI, of which there is minimal, isn't very good. The new apex predator, which has migrated northward as a result of global warming, is seen through thermal imaging cameras and, quite frankly, it does not look that good even in thermal imaging. This new predator camouflages itself to hide in plain sight and the only view we get of one is after it's died and, at least, this was done practically. The movie is definitely aware that it can't rely too much on showing its monsters. I think that's why there was a conscious decision made to turn this into a simpler, perhaps more character-driven affair, as they're trying to figure out this mystery, what these apex predators want, whom nobody believes exist anyway, and what the military (of course) has to do with it. The introduction of the military is precisely what you would expect. They're trying to see if they can train these predators in order to fight for them, blah, blah, blah, they're not letting anyone get off the island alive, blah, blah, blah, they know too much, blah, blah, blah. It's, quite literally, the same bullshit you've ever seen when it comes to horror movies and the military. Now, I'm not fan of the military industrial complex, I don't ever plan on joining the military, it's just not for me, but I'm sick and tired of this played out trope. That the military has done, and still does, some shady shit can't be denied, I'm just saying that I'm tired of the same trope playing out in this way. How about you try something different? really, to me, the military has become a 'get-out-of-jail-free card' for lazy filmmakers who don't want to really put in the effort to tell a better story. It's comparable to the 'it was all a dream' ending. Nobody likes that ending because it's the ultimate in laziness. Well the military is the second in line. Though, to be fair, the military isn't really a presence, they just have one guy in there, who's writing a report on the predators. But it is still not exactly great storytelling. The movie isn't perfect, I do think the narrative doesn't really engage you in any sort of meaningful way. Yes, I was intrigued to find out what the monsters were, but it's all fairly simple. Not that there's anything wrong with simplicity, but I just didn't really connect with it one way or another. I did like the characters, they grew on me, so that's one thing the movie got right. However, to me, there's some weird moments. There's this one scene where some of the people in town leave with one of the fishermen on his boat. These people are never seen again. And, of course, it's obvious that the predators had something to do with that, but I don't think the movie really stresses the point that the island's population is being thinned out. It's just something that the characters accept and they just move on with their lives, as if nothing had happened. Another thing is that some characters die and I had no idea who these people were or why I should care. Nina, for example, was one of these characters. I don't know who Nina was, so, ummm, why is this important to me? Arthur was another. They mention an Arthur who is never seen, I think. Maybe they're talking about the fisherman, the one who left with the people, who, as I remembered, was referred to as Ruben or Reuben. And the ending, in my opinion, falls completely flat and is incredibly anti-climactic. I doubt the idea was to set up for a sequel, because where do you even go with one, but it wasn't skillfully pulled off in order to feel like it was a vague ending. Like, as an example, Inception. The way Inception's last scene is set up, with the spinning top and the score in the background just ending as the scene closes with you never figuring out if the top fell over or it just kept spinning, was just *chef fingers* magnificent. In this movie, however, which obviously doesn't have the budget of Inception, Maggie is just rowing away from the island to head to the mainland (which is still 40 miles away) and Ruth asks her if she can keep going. Maggie says 'I can make it a few times' before the movie just...ends. That's it. I mean, obviously, the whole thing is meant to make you wonder about if they made it to the mainland or not, but it is so unskillfully done that it completely misses the mark. Instead of an ending that inspires debate, you get an ending that you immediately sidestep and don't wish to debate further because it didn't actually engage you in a meaningful way. So, yea, turns out that I disliked this movie more than I originally thought upon having watched it yesterday. There's some stuff that I like, like how the community feels lived in, the acting is strong and the mystery somewhat intrigues you. But, to me, the inconsistent scripting that gets rid of characters you didn't even know existed, lackluster climax and flat ending keep this from getting a higher rating. It's not bad and, ultimately, I appreciate a lot of what it did, it's just that it missed the mark quite a few more times than I'm comfortable to look over, even when I was thinking of giving it 2.5 stars. So, obviously, it's downgraded. I hate to be this guy, to shit on someone's hard work, but this movie just doesn't come together. There's potential here, with Josh Gerritsen, but that potential is still quite raw. Hopefully his subsequent movies show improvement.
Jesse Ortega
Super Reviewer
Island Zero Quotes
There are no approved quotes yet for this movie.